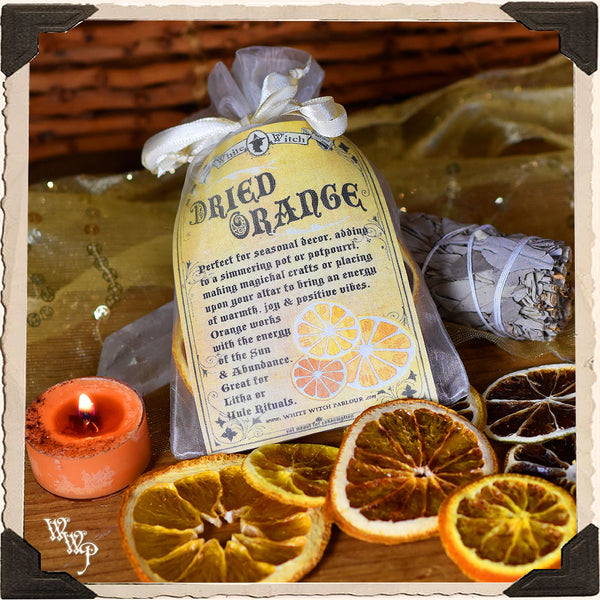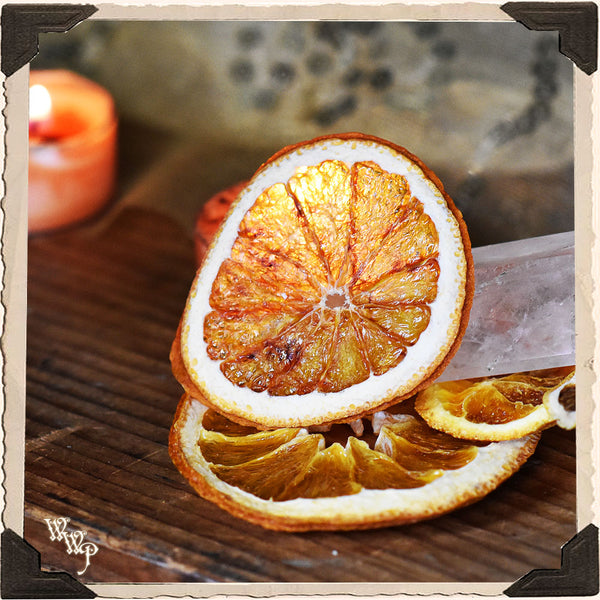 DRIED ORANGE PEEL SLICES. For Abundance, Renewal & Decor
Orange has a zesty citrus scent, which brings in a freshness and renewal type energy to your space. It works by cleaning and clearing the aura into a higher vibrational level, and attributing to the bright energy left on your heart. Working with the magic of Orange lifts the spirit & radiates positivity, making any manifestation practices or spell casting stronger & more efficient, welcoming vitality to the soul. Citrus scents are powerful generators to cleanse energies & recharge the spirit for Late Summer Rituals & Meditations.
Botanical Name: Citrus Aurantium

Element Correspondences: Fire

Planetary Correspondences: Sun
Magickal Uses:
Energy, Cleansing, Happiness, Sun Magick, Full Moon Magick, Raise Vibration, Renewal, Raising Vibration, Manifestation, Uplifting, Relieve Depression, Soothing Anxiety, Safety or Protection, Life
Zodiac: 
Aries, Leo, Sagittarius.
Chakras:  
2nd - Sacral Chakra, 3rd - Solar Plexus Chakra
Magickal Tip: String a festive garland of Orange Slices & Pine over a Hearth during Winter to bring an abundant & bright energy to the home.

Holistic Uses:  Overall boosts the immune system to help naturally fight of sickness, disease & viruses.

Each organza sachet contains 10 whole slices of All Natural Orange Peel, ranging in size from 2 -3". Store in cool dry place when not in use. There are several uses for dried botanical Orange slices, including creating a summer or Yule Seasonal Garland, adding it to an altar, oil blend or making herbal sachets or potpourris & so much more! These dried Orange slices are meant for decoration purposes only.

Magickal Blessings,
~ Jenna

* All Sales Final.  
Herbs & information provided is not meant to treat or diagnose any disease or ailment. Please seek medical attention if needed & always do research before consuming herbs or resins. Many contain natural high medicinal properties, which may be toxic to pets, small children & Women who are nursing or pregnant.
More Apothecary Jars, Burners & Accessories available in my shop!