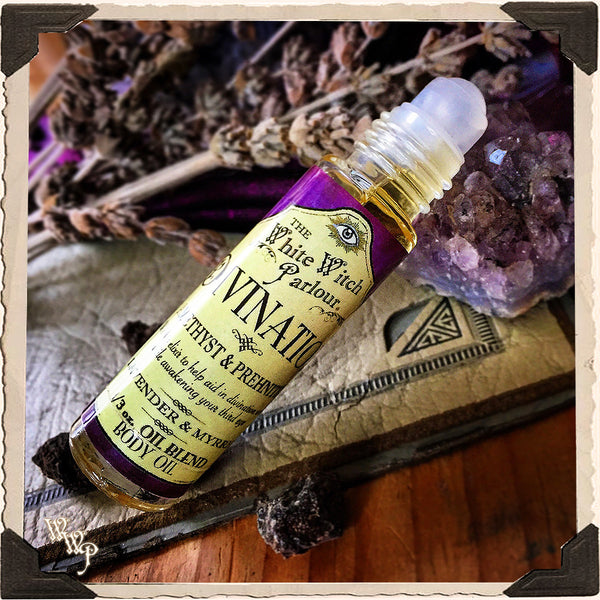 DIVINATION Elixir 1/3oz. BODY OIL Rollon. Scent of Lavender & Myrrh. Blessed by Amethyst & Prehnite Crystals.
The perfect blend of beautiful Lavender & Earthy Myrrh to soothe your mind and tap into the activation of your Third Eye, for insight, wisdom and healing. While Lavender & Myrrh together help to promote, spirituality, purity, protection, peace, love and assist in divinatory work, it is also charged with Amethyst & Prehnite stones to add, high spiritual vibrations, clearing any blockages in your 6th & 7th chakras, to bring forth visions and cosmic knowledge for the three dimensional mind to understand.
By the use of this blend, you can find yourself connecting the dots to the synchronicities that surround you daily, gifted to you by your spirit guides, allowing you to continue moving forward on your journey to spiritual growth and understanding of the divine energy that flows lovingly through you. I encourage you to work towards the healing of your third eye, so that you may begin find the answers to all your questions in life by accessing higher levels of awareness, which eventually will help you to achieve communication with the spirit world. Use this blend with an open heart & a curious mind for the truth that lays beyond what we consciously see.
My prayer for use:
" I allow myself to see clearly through the veil, I control my visions and know that harm will not prevail, My intuitive wisdom will now set sail, for my psychic abilities will no longer fail. "
Each Body oil comes in a glass 1/3oz. bottle with easy roll-on applicator & black cap, containing chip stones of Prehnite & Amethyst crystals. 

May you find your inner psychic,
~ Jenna


All Sales Final*
A beautiful, hand-crafted Potion blend of both all natural essential oils & high grade fragrance oils, blessed with the energies of the associated crystals in an all natural Sweet Almond Oil Carrier. Free of Harsh Chemicals & Animal Testing. Created for use on Skin, Aroma Lamps, Bath Oil or an Anointing Ritual Oil. Not meant for consumption. Keep away from small children & pets.
Vegan Friendly! Free of Harsh Chemicals & Animal Testing.

Sample sizes & more oils available in my shop!