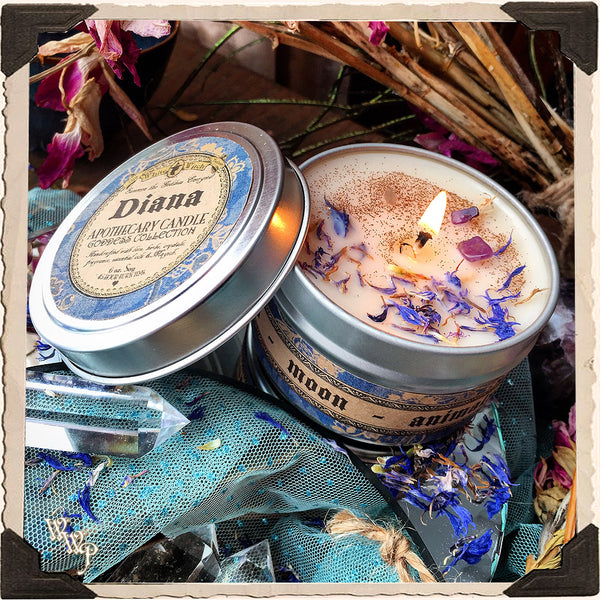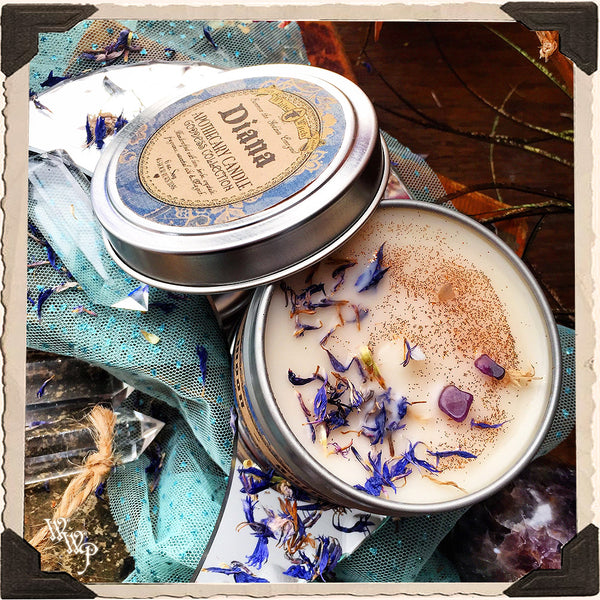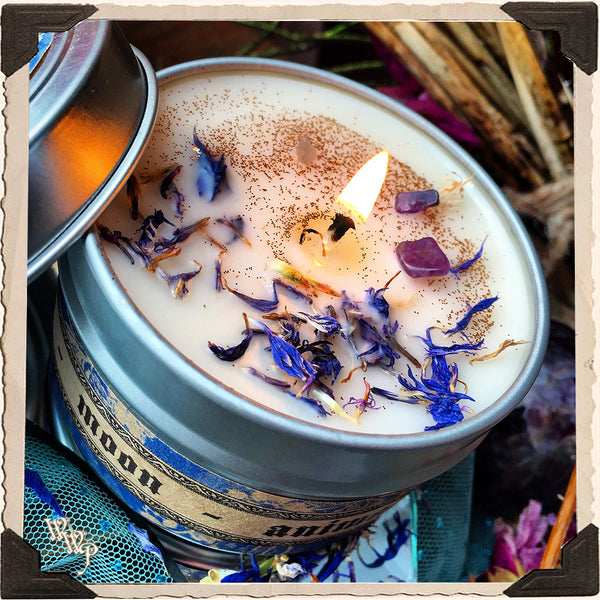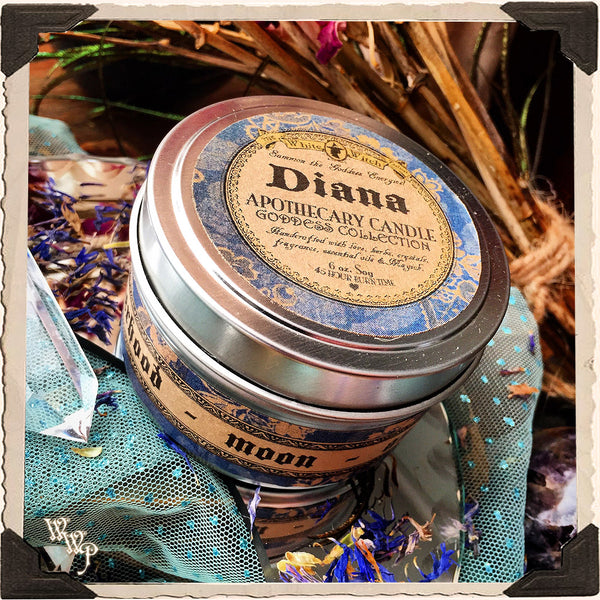 DIANA GODDESS CANDLE. 6 oz. For Intuition, Motherhood, Moon, Animals, Purity.
This luxurious blend was created to tie you to your soft, feminine energies, awakening your intuition & womanly essence. A sweet & calming blend of Coconut & Vanilla, blessed by a sprinkling of Cornflower, Amethyst Crystals & Goddess Shimmer, will ignite your inner Goddess & pure energies, calling in the powers of Goddess Diana & all her gentle moonlight evoking energy. Diana is a Goddess spiritually tied to the spirit of all animals, she is also referred to as the Goddess of the Hunt. Carrying the essence of the moon, she is a Goddess of insight & intuition & motherly healing through pure light energy. She is tied to the protection of children, fertility & chastity, while ushering in a new found intelligence. 
Amethyst is a meditative and calming stone which works in the emotional, spiritual, and physical planes to provide calm, balance, patience, and peace. In the psychic and spiritual realms, amethyst is an excellent all-purpose stone that can increase spirituality and enhance intuition and psychic powers of all kinds. Coconut & Vanilla create a soothing blend that calms the spirit & aids in reflection, purity & drawing on the energies of Mother Moon. Cornflower acts as a catalyst for intuitive insight, awakening the 'third eye' & enhancing the abilities to better connect with the spirit of an animal and the sacred flow of the universe. 
A magickal handcrafted 6oz. candle tin can be used for simple spells, rituals or just setting a proper energy to your environment. This tin candle is made up of soy wax, cotton wick, fragrance / essential oil blend & is charged & sprinkled with the associated crystal chip gemstones & herbs.  This beautiful candle offers a high scent throw, many smiles & can be taken on the go. It holds an average burn time of 45+ hours & comes ready to gift to a friend or yourself. 

Blessings of Divine Love,
~ Jenna

*All sales are final.
Store in cool dry place, keep from heat or direct sunlight. Never leave a lit candle unattended or near flammable items such as curtains. Always think of safety when using open flame *

Vegan Friendly! Free of Harsh Chemicals & Animal Testing.

Check out more candles & accessories in my shop!