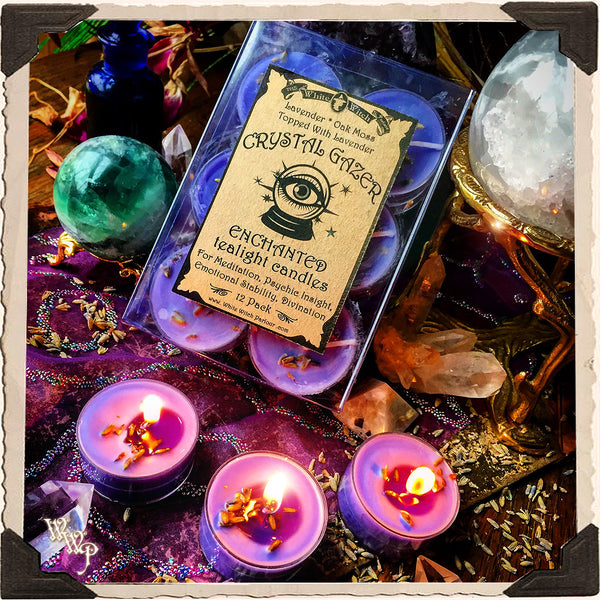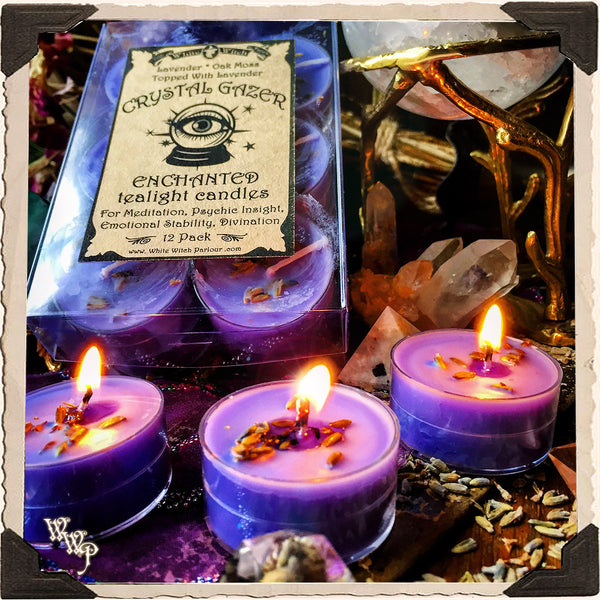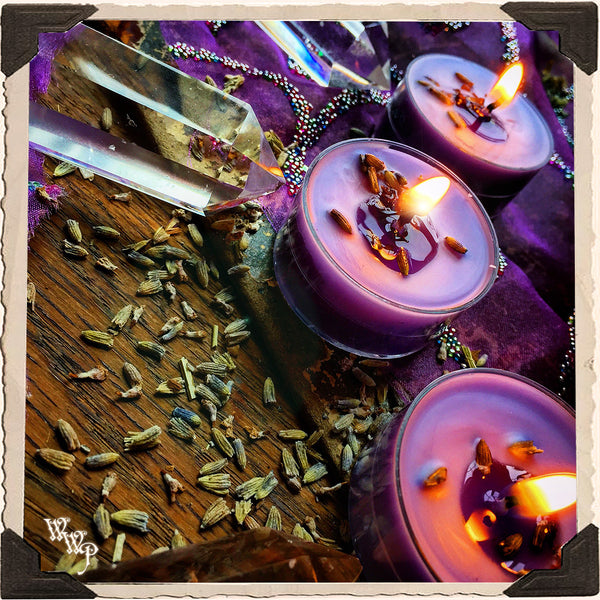 CRYSTAL GAZER TEALIGHT CANDLES. 12 Pack. For Meditation, Psychic Insight & Divination.
This balance of a 'strong & gentle' scent work together to help one find the balance within their own soul. Through the art & practice of meditation, crystal gazing & divination, one can transcend the ego & learn to fully trust the intuition & wisdom that the 'Third Eye' holds. This magick is ancient & has always lived within each of us, it just takes the practice to tap into it. The ancient art of crystal gazing helps one to travel deeper into the subconscious, while in a meditative state, conjuring up memories of lives past, to heal from them & help one to clearly recognize patterns, which lead to a clearer message of what the future may hold. 

Oakmoss & Lavender create a yin & yang balance to the energies that may surround you, embracing the masculine & feminine, the bold & delicate. This welcomes a deeper understanding to the spirit & a greater spiritual connection to all living this around us. 
Lavender
 'calms the waters' of the spirit, reducing stress or anxiety, that may plaque the mind from underlying doubts or fears. It entices one to dig deeper within their subconscious mind, creating a portal for lucid or vivid dreams, which may help one along their path or answer questions that have been troubling the individual. Associated with the Third Eye, psychic practices & meditation, Lavender was ritualistically tossed into bonfires, to open the window to the spirit realm, while diverting evil spirits & offering protection against the Evil Eye.  
For centuries Oak Moss has served as a powerful tool as a bringer of luck, money, protection and strength. Patchouli, also associated with money drawing & protection, also works to help the user release unwanted energies, heightening manifestation powers, with it banishing the darkness that may be surrounding one's life.

A magickal blend of hand-poured 1/2 oz. Tealight candles with an approx. burn time of 4 hours each. With 12 candles per pack in a clear gift box, you are sure to get a of magickal use out of this special candle set, find way into a hand poured batch of Soy wax, leaving each candle to ignite new magick & beautiful scent.  Arrives ready to use or gift!

 May you insight in your meditations, 
~ Jenna  

*All sales are final.
Store in cool dry place, keep from heat or direct sunlight. Never leave a lit candle unattended or near flammable items such as curtains. Always think of safety when using open flame *

*Free of Harsh Chemicals & Animal Testing.

Check out more candles & accessories in my shop!