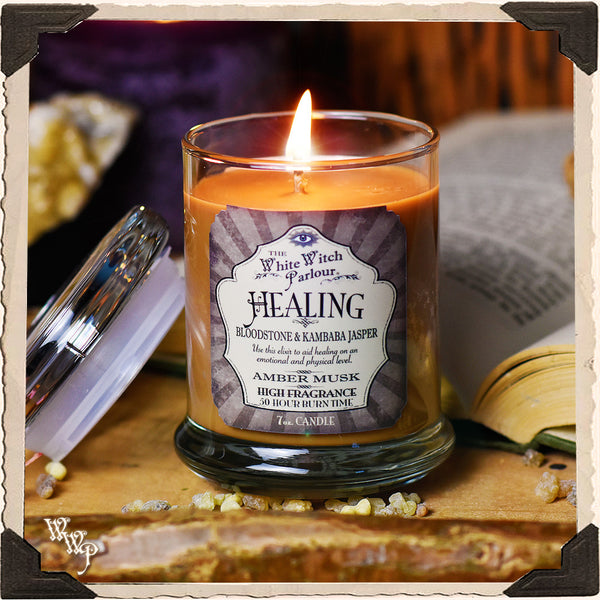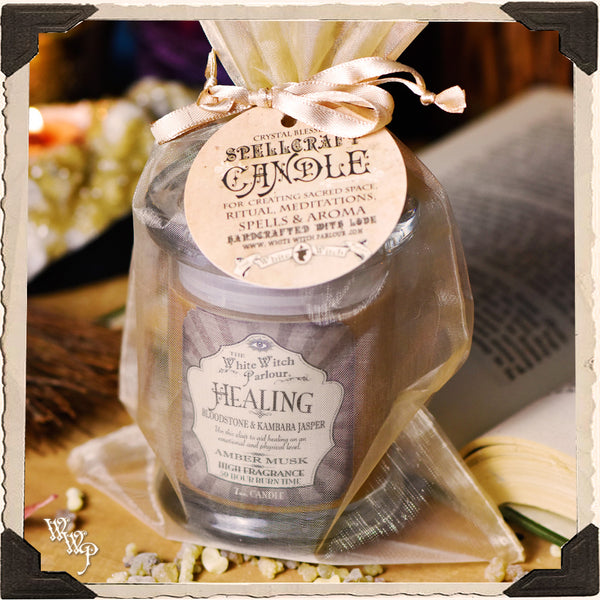 HEALING Elixir Apothecary CANDLE 7oz. For Emotional Balance & Energetic Healing
Healing starts from belief in the heart & mind, that you can get better. If wishing healing on another, they must first be open to receiving the healing energy. We all have the power to heal ourselves & others, this is instinctively displayed when a child or person is wounded and we place our hands over an injury, as if something inside us knows we have the ability to heal. Balanced emotions help enhance healing energies, as we release stress we can better focus on what our bodies are telling us it needs, as well as, what it is getting to much of. Everything is a balance, find yours & let the healing begin!  
A blend to promote the energy of healing on an emotional and physical level, carrying the vibrations of Bloodstone & Jasper Kambaba, mixed with the earthy & warm scent of Amber, which often serves as a powerful healer, giving a person a lovely sense of good health and recovery. It can balance the emotions, clear the mind, releases negative energy, aid manifestation & ease stress by clearing phobias and fears. Bloodstone is known as an excellent blood cleanser and a powerful healing stone. It heightens intuition and increases creativity. It is grounding and protecting. Bloodstone can draw off negative environmental energy, helping to overcome influences such as geopathic or electromagnetic stress & gives courage to teach you how to avoid dangerous situations. The legend of the origin of bloodstone says that it was first formed when some drops of Christ's blood fell and stained some jasper at the foot of the cross. Kambaba Jasper calms the mind and promotes feelings of peace, reducing fear and increasing your self worth. It can bring wisdom and the ability to get along with others. It is a stone that is extremely good for seeing and interpreting auras and helps with access to the Akashic Records as it supports one during prolonged illness and re-energizes the body. This comforting blend can help you realize the importance of good health & self-worth, as long as you believe health can be achieved, it shall be yours.
My prayer for use:
" I allow for healing of any kind, to enter my heart & create peace of mind. As I heal I know I'll be fine, my body a temple & soul divine. "
A magickal hand-poured 7oz. candle can be used for spells or just the aromatherapy that it offers. This decorative jar candle is made up of organic soy wax, non-toxic paper-core wick, fragrance / essential oil blend & is charged with the associated crystal chip gemstones mixed into the wax. The magickal aura around each candle is powerful on its own, creating a shift in energy of any room it is left in. This beautiful candle offers a high scent throw & many smiles :) It holds an average burn time of 50+ hours. It comes in a reusable glass apothecary jar with lid, packaged in a beautiful color matching organza bag & hangtag ready to gift to a friend or yourself. 

Cheers to good health,
~ Jenna


All Sales Final*
Store in cool dry place, keep from heat or direct sunlight. Never leave a lit candle unattended or near flammable items such as curtains. Always think of safety when using open flame *

Vegan Friendly! Free of Harsh Chemicals & Animal Testing.

Check out more candles & accessories in my shop!