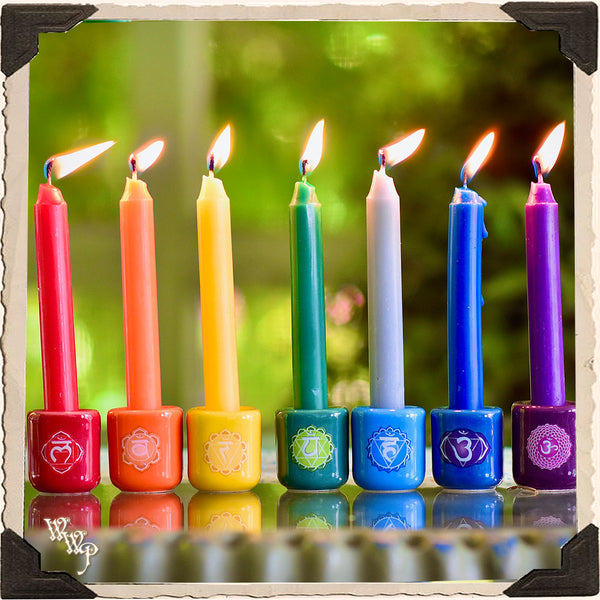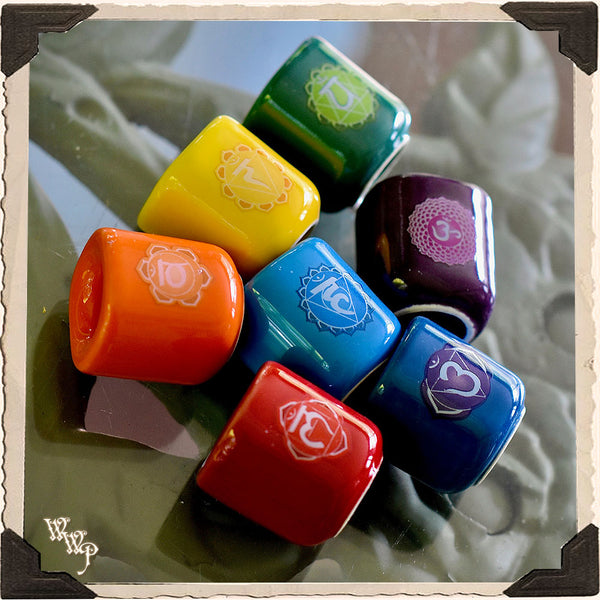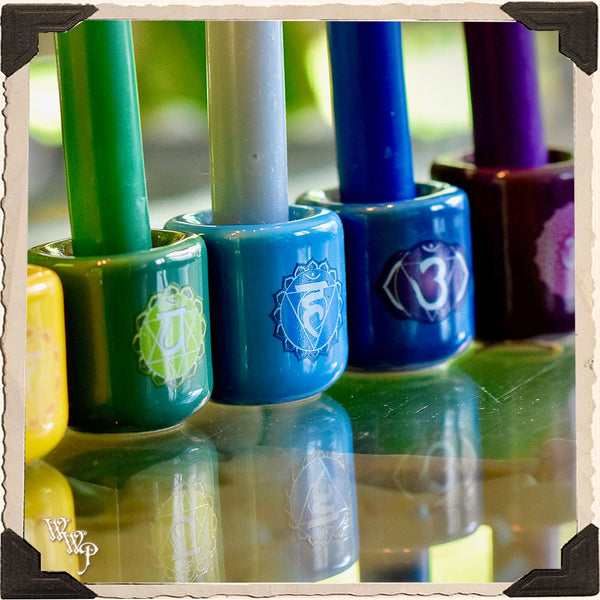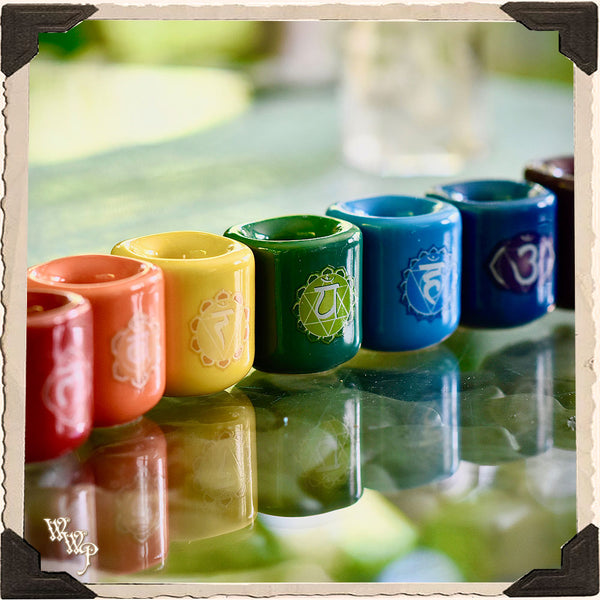 CHAKRA CANDLE HOLDER SET. For Mini Taper, Chime & Spell Candles. For Reiki Healing & Spiritual Alignment.
When our Chakras are out of alignment, we tend to let negativity, sickness or disease get the best of us. If for example, if your heart chakra is out of alignment, the lack of healthy energy flow will begin to spread to your throat & solar plexus chakra, and so on, making you tired & ill willed.
7 Candle Holder set includes:
Red  = Root Chakra
Orange= Sacral Chakra
Yellow  = Solar Plexus
Green = Heart Chakra
Blue = Throat Chakra
Indigo = Third Eye Chakra
Purple = Crown Chakra

This mystical set includes 7 mini CHAKRA colored candle holder bases, for mini spell /chime candles, for magic and metaphysical healing practices. Each candle holder base is made of ceramic & has an associated screen printed chakra symbol on the front. Each candle base stands approx 1.5" high x 1.5" wide. It arrives neatly displayed in a shrink wrapped cardboard box.
* CANDLES SOLD SEPARATELY
Blessings of good health & prosperity, 
~ Jenna
* All sales final.
*************************************

MORE INFORMATION ON THE CHAKRAS:

In Hindu metaphysical and tantric/yogic traditions and other belief systems chakras are points or knots, in the subtle human body. They are located at the physical counterparts of the major plexuses of arteries, veins and nerves. Chakras are part of the subtle body, not the physical body, and as such are the meeting points of the subtle (non-physical) energy channels, called nadiis. Nadiis are channels in the subtle body through which the life force (prana), or vital energy moves. Various scriptural texts and teachings present a different number of chakras. There are many chakras in the subtle human body according to the tantric texts, but there are 7 chakras which are considered to be the most important ones.