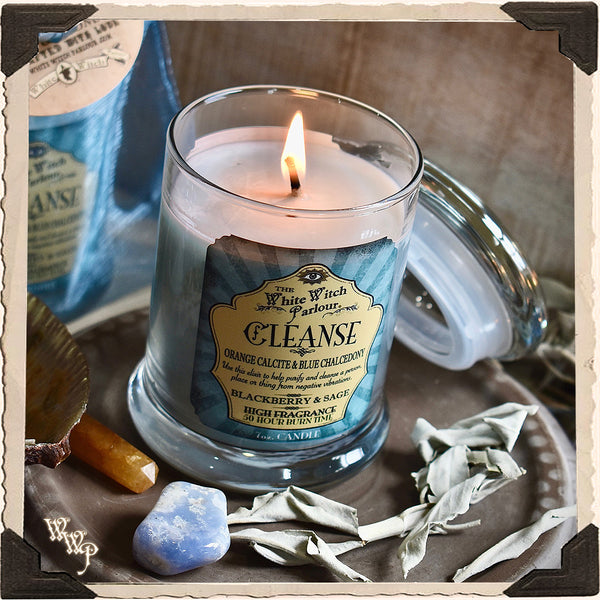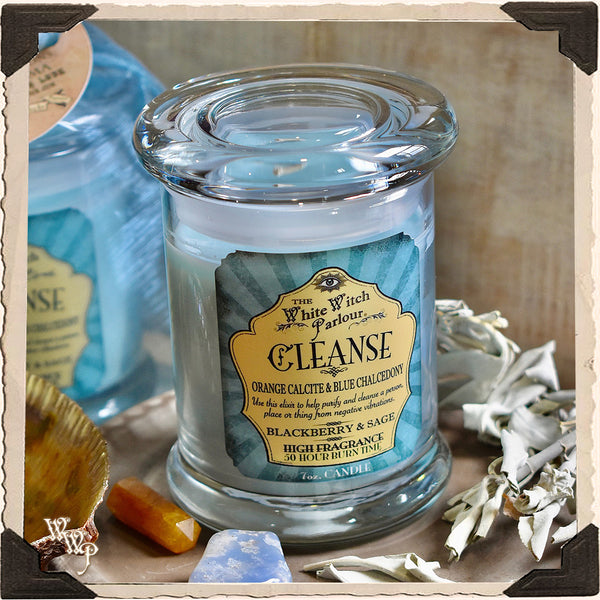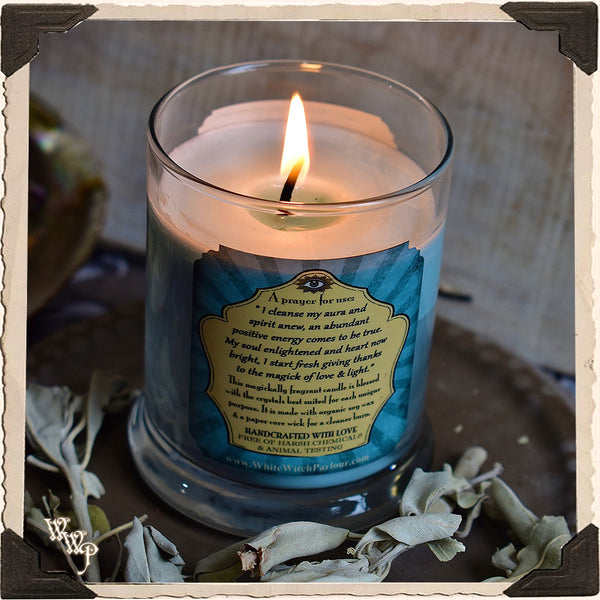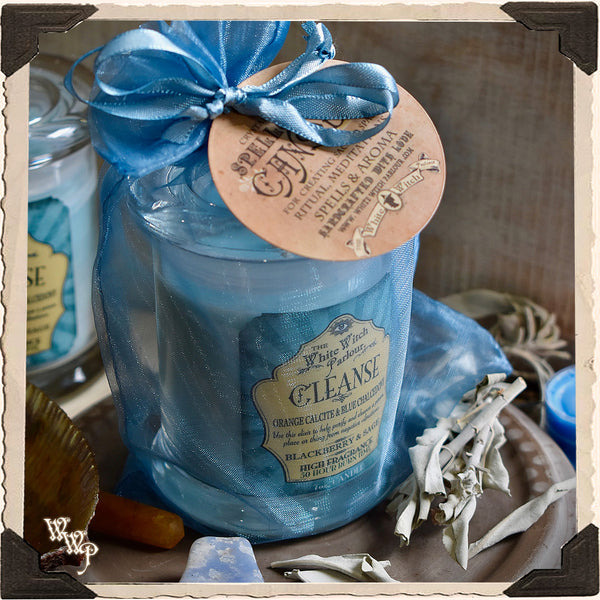 CLEANSE Elixir Apothecary CANDLE 7oz. For Aura Purity, Removing Negative Energy & Full Moon Work.
Soft, fresh & fruity, this energy purifying blend was created to help purify and cleanse a person, place or thing from negative vibrations, making it a powerful blend for Full Moon work. Blackberry is often used when casting spells of abundance, however it can also be used for protection from malevolent energies and for health protection, as it reminds us of the sweet things in life. Sage has historically been used in smudging rituals as a means of invoking purification, protection, longevity, and immortality. The word sage - salvia - comes from the Latin word salvare, which translated means "To heal". On a psychic energetic level, the practice of smudging is a ritualistic way to cleanse a person, place or an object of negative energies or influences.  
Orange calcite is a stone that is particularly helpful mentally. It can relieve emotional fear, mental breakdown, depression, accidents, rape, divorce, suicidal thoughts. It is particularly helpful with phobias & works to restore mental and emotional equilibrium, giving a gentle boost to psychic abilities and intuition. Calcite in general is a powerful energy amplifier and cleanser. The purifying energy of Calcite cleans out stored negative energy from a room, the body, etc. making it a great stone to clear out old energy patterns and increase personal motivation. Blue Chalcedony is a nurturing stone that promotes brotherhood and good will. It absorbs negative energy & brings the mind, body & emotions of one's spirit into harmony. It instills feelings of benevolence and generosity, as it alleviates hostility and transforms melancholy into joy. It promotes openness and enthusiasm, while easing self-doubt, absorbing and dissipating negative thoughts, emotions and bad dreams.
My prayer for use:
" I cleanse my aura and spirit anew, an abundant positive energy comes to be true. My soul enlightened & heart now bright, I start fresh giving thanks, to the magick of love & light. "
A magickal hand-poured 7oz. candle can be used for spells or just the aromatherapy that it offers. This decorative jar candle is made up of organic soy wax, non-toxic paper-core wick, fragrance / essential oil blend & is charged with the associated crystal chip gemstones, hand-ground into a powder & mixed into the wax. The magickal aura around each candle is powerful on its own, creating a shift in energy of any room it is left in. This beautiful candle offers a high scent throw & many smiles :) It holds an average burn time of 50+ hours & comes in a light blue organza bag with hangtag, ready to gift to a friend or yourself.

May you cleanse your aura & find peace,
~ Jenna
 
*All sales are final.
Store in cool dry place, keep from heat or direct sunlight. Never leave a lit candle unattended or near flammable items such as curtains. Always think of safety when using open flame *

Vegan Friendly! Free of Harsh Chemicals & Animal Testing.

Check out more candles & accessories in my shop!