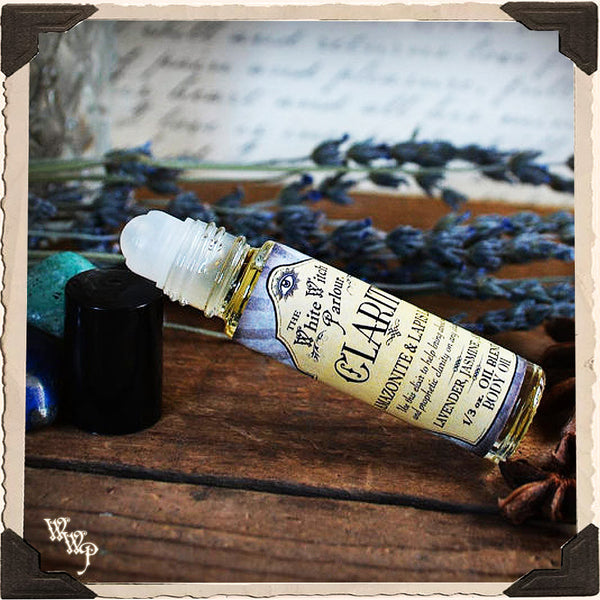 CLARITY Elixir 1/3oz. BODY OIL Rollon. For Bliss, Emotional & Prophetic Clarity.
Sharp, crisp and very present, the intriguing scent of Lavender, Anise & Jasmine will guide your scattered thoughts to become front and center, pushing away that which does not serve you for the matter at hand. With the wisdom stimulating energy of Lapis Lazuli and the balancing energy of Amazonite gemstone, you will be able to separate your busy mind and what comes out of your mouth. Creating the sense of stability and an overall calmness as you no longer fight a battle of flooding thoughts and instead find internal bliss through clear guidance and communication.
This Elixir was created to help allow yourself to think and speak freely through your higher consciousness, aided by the borrowed energies of the infused crystals, you will vibrate at a level that attracts prophetic clarity, happiness, peace and enough knowledge to finally release any confusion or barriers that create obstacles to your work or life path.
My prayer for use:
" I push away all negative distractions, allowing me to find clarity to my actions. To find peace of mind in any situation, I call to my angels for clear communication."
Each Body oil comes in a glass 1/3oz. bottle with easy roll-on applicator containing chip stones of Lapis Lazuli & Amazonite gemstones.
A beautiful, hand-crafted Potion blend of both all natural essential oils & high grade fragrance oils, blessed with the energies of the associated crystals in an all natural Sweet Almond Oil Carrier. Free of Harsh Chemicals & Animal Testing. Created for use on Skin, Aroma Lamps, Bath Oil or an Anointing Ritual Oil. Not meant for consumption. Keep away from small children & pets.
Awaken to a clear mind,
~ Jenna
Sample sizes & more oils available in my shop!
**All sales are final. **