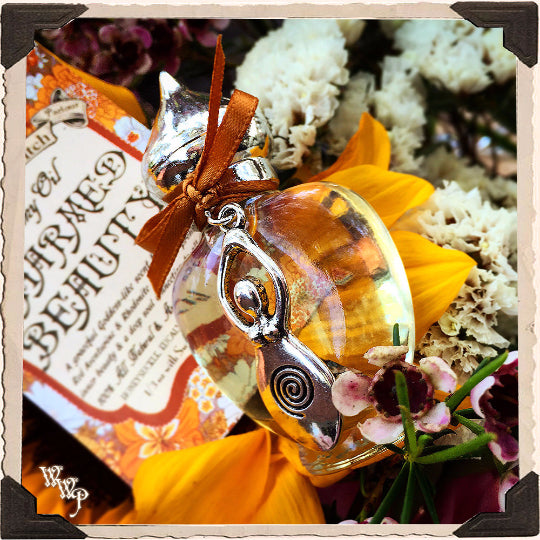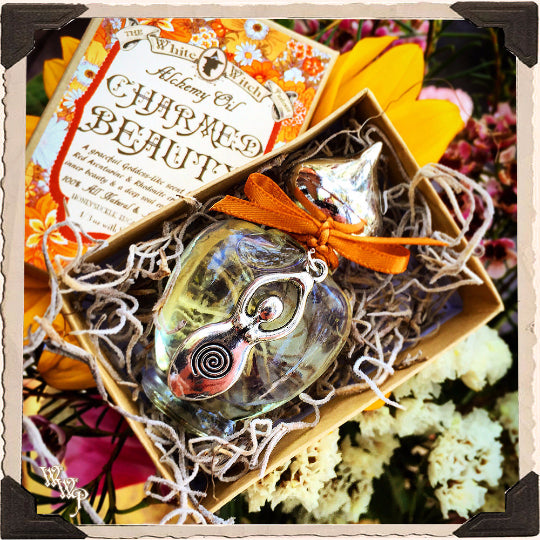 CHARMED BEAUTY. All Natural Alchemy Oil Potion 1/3oz. For Goddess Energy & Connection to Life.
Let the Goddess energy flow through you to awaken your full potential in self love, compassion for others, healing energy & so much more. Reconnect to your soul & hear the music in nature & the beauty in all life. To be charmed, is to be one who see's the world through magickal eyes, seeing beyond what most see & appreciating everything for what it is. Through this one can awaken their inner true beauty, because they vibrate at an energy of love, welcoming life in all forms. An enchanting soul with awakening wisdom dwells deep within you & it is time to unlock the doors and welcome in abundance & prosperity in all that you do. This Goddess conjuring blend can help you get there.  

A springtime blend to welcome the Goddess energy into your sacred life, Honeysuckle, Eucalyptus & Palmarosa work together to create a floral, refreshing & very unique scent, as it shifts & changes on each person. Eucalyptus cleanses the aura, recharges one's energy & helps to protect from any negative thoughts clouding the way. The blessed Honeysuckle, blends in to harmonize the heart, bringing in & enhancing one's true beauty & further connecting the soul to the roots of Mother Nature. The lovely Palmarosa, creates a softness to the spirit, making for a compassionate heart, helping to heal others with a gentle energy, teaching the importance of new life & movement. This precious blend is blessed by the powerful energies of Red Aventurine & Rhodonite Crystals, which both work together to greatly enhance the warmth of the heart & strengthen the connection to nature & new growth. They work to create stability to the mind,body & spirit, while enhancing creativity & imagination from the heart's energy. These magickal stones help one to develop focus on finding one's true soul purpose & how to do so through the art of giving. 

This beautifully enchanting alchemy oil comes in a 1/3 oz. pear shaped glass bottle with silver decorative, Victorian style screw-on cap & Goddess charm. The all natural essential oil blend is diluted with natural Sweet Almond Oil, and is ready to wear as a body oil or use in a magickal bath, aroma lamp or anointing ritual work. Crystal chip stones of Red Aventurine & Rhodonite are left in each bottle to keep the magickal workings strong. Each bottle comes in a decorative gift box on a bed of Spanish moss.

May Goddess Bless you,
In Love & Light,
~ Jenna
All Sales Final *  
More oils & accessories available in my shop!