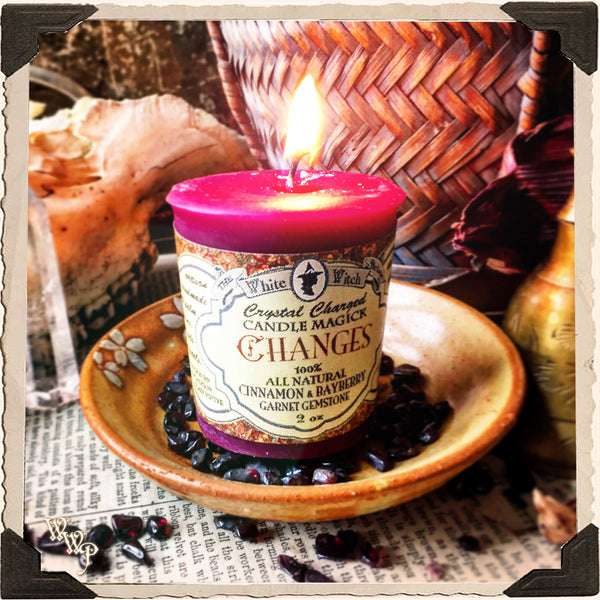 CHANGES VOTIVE CANDLE. For Reversing Spells & Modifying Outcomes.
It's amazing how fast a situation can change once we change the energy that we are emitting. Sometimes in emotional haste, we cast an intention we may not desire when we come back to a clear state of mind. Energy is power & although Love conquers the magickal spectrum of spellwork, low vibrational intentions can just as well manifest through fear, jealousy & anger. Sometimes we write the wrong words to our wishes, and we may feel as if we need to erase them or change the ending. This is what inspired this blend & candle, a spell to 'undo' or 'reverse' what has been set in motion. 
When you need to 're-write' the energy you set forth, Bayberry, Cinnamon & Garnet may become of aid to you. Spicy & sweet, Bayberry & Cinnamon in magick is used to propel success or bring in abundance, it's scent can work to spice up your own energy, thus raising your vibrations, warming the spirit & projecting positive energy, which in return will find it's way back to you three fold. Bayberry ties to the element of Earth, helps to ground your emotions, bringing harmony to your thoughts, allowing for 'clear vision,' and is tied to luck, prosperity & healing. Garnet Crystal works with the Root & Heart chakra, bringing stability, focus & alertness to the magick you cast. It helps to heal & activate the heart chakra, empowering a new surge of energy to cast your new intentions, overshadowing the 'old' ones. 
You can use this 2oz. All Natural Votive candle for spells, rituals, meditations or just the aromatherapy that it offers. This Votive is made up of essential oils & charged with a crystal chip gemstone powder. The magickal aura around each votive is powerful on its own, creating a shift in energy of any room it is left in. If placed in a glass or tin votive holder this candle will burn for about 15 hours or about 5 hours if burned as is. The wick & Palm Wax allow for a clean burn.

In Love & Light,
~ Jenna

**All sales are final. ** 
*Buyers: Store in cool dry place, keep from heat or direct sunlight. Never leave a lit candle unattended or near flammable items such as curtains. Always think of safety when using open flame* 
More Candles & Accessories in my shop!