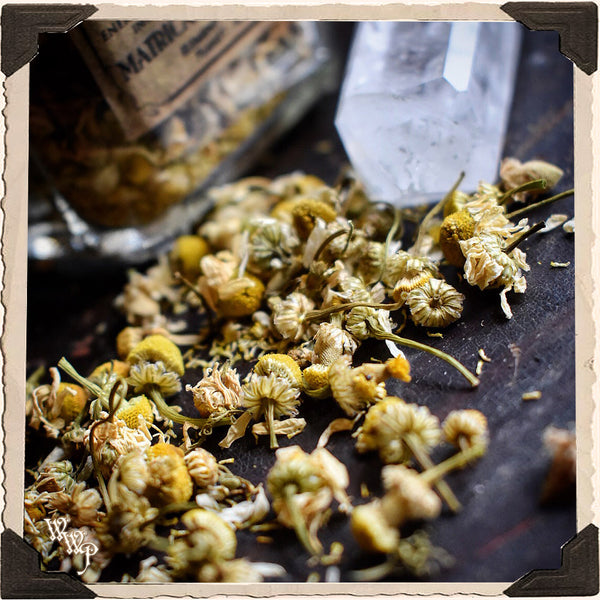 CHAMOMILE FLOWER APOTHECARY. Dried Herbs. For Calming, Peace & Blessings.
A bright, cheerful & calming herb, popularly used in tea to help one relax, Chamomile has also been used for centuries as a key ingredient in spells to bring about blessings & prosperity. When burned as an incense, it illuminates the mind to match a higher frequency, making new avenues for abundance & good luck to flow in.  When mixed with lavender in a face wash, it can be used to cast a spell of beauty & youth. In ritual or celebrations honoring the Sun, Chamomile can be used as a talisman or offering. The Summer Solstice reminds us to take it easy, soak in the sun & relax, so try adding some Chamomile to your Litha Ceremonies. Anoint your altar candles with a mix of olive oil & crushed chamomile flowers, 'wrapping' them with the power of the Sun. Smudge a new home or space with the smoke or scent of chamomile, to welcome cheerful blessings, peaceful vibes & happiness.  
Botanical Name: Matricaria Recutita
Element Correspondences: Water
Planetary Correspondences: Sun
Zodiac Correspondences: Leo
Magickal Uses: Illumination, Prosperity, Blessings, Honoring the Sun, Litha & Summer Solstice, Purification, Peace, Meditation, Youth, Calming, Sleep, Energy Clearing, Joy, Healing, Inspiration, Centering. 
Chakras:   Solar Plexus (3rd)
Holistic Uses:  Frequently used to calm anxiety & stress. Prepared as a tea or used in a bath, it soothes nerves & calms the mind, for better focusing or sleep. Added to tinctures & smudge spray, Chamomile helps one to relax. Also may be used to counter an upset stomach.   

Each glass apothecary herbal jar contains approx. .50 oz. of All Natural Chamomile Flowers, topped with a gold screw on lid, informative label & rustic pentacle accents. The pentacle represents the elements ( Earth, Air, Fire, Water & Spirit ) encompassed in a ring of unity, serving as a symbol of protection & connection. There is enough herbs in one jar to last for many uses. Store in cool dry place when not in use. Each square Herbal Jar measures approx. 4" high x 2.5" wide. There are several uses for dried botanical herbs, such as adding to or making magickal sachets or Witch bottles, creating tinctures or perfume oils, creating herbal capsules, tea mixtures, powder incense, bath and body scrubs, soaps & lotions, & so much more!
Magickal Blessings,
~ Jenna
* All Sales Final.  Herbs & information provided is not meant to treat or diagnose any disease or ailment. Please seek medical attention if needed & always do research before consuming herbs or resins. Many contain natural high medicinal properties, which may be toxic to pets, small children & Women who are nursing or pregnant.
More Apothecary Jars, Burners & Accessories available in my shop!