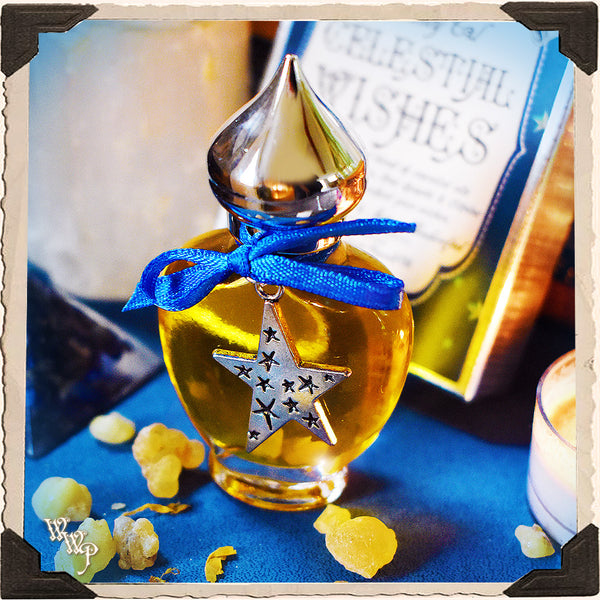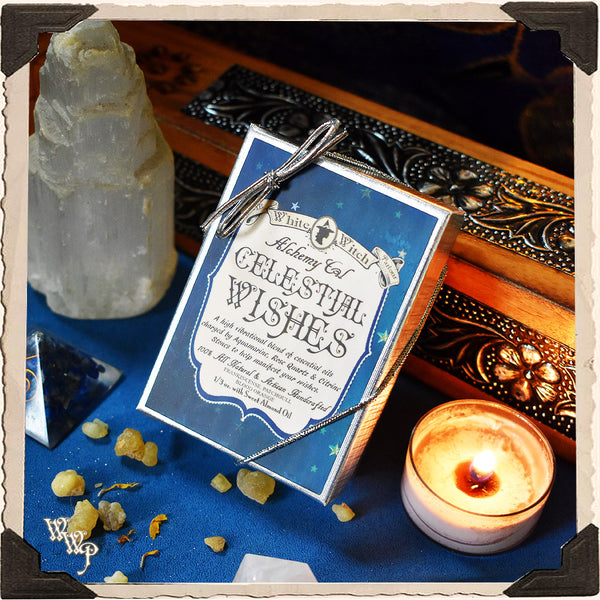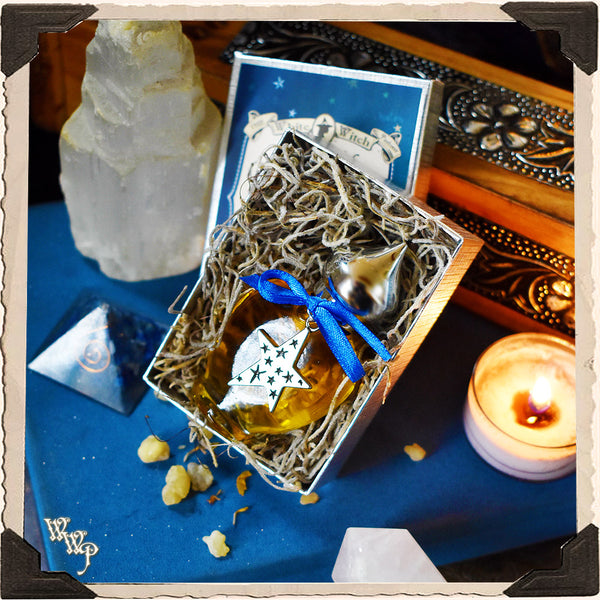 CELESTIAL WISHES All Natural Alchemy Oil 1/3oz. Frankincense, Patchouli, Blood Orange. Blessed by Aquamarine, Rose Quartz & Citrine Stones. For Manifestation.
"When you wish upon a star"... the phrase that fully embraces the magick of childhood, reminds us to never forget the pure innocence of a simple wish & the sheer power it has once it manifests before our eye. We realize at that moment how capable we are of achieving any desire we seek, we truly do create our own reality. So why not create a reality of abundance, smiles and overall good luck. You deserve your every wish to be fulfilled, as you hold the powerful light of magick within you.

Subtle and enchanting is the only way to describe this handcrafted blend. Immediately raising your vibrations, Frankincense operates in the auric field and adapts to one's spiritual state of being, known to hold some of the wisdom of ages and of the universe, it helps to release any and all fears that hold you back from achieving your dreams, elevating your heart, mind and soul. Blood Orange brings happiness to the heart, regeneration of the spirit, and vitality to the soul, while Patchouli's long association with magick puts the power behind your intentions, to develop them into your reality. I have added the frequencies of Aquamarine for clarity to that what you wish, as it is a "Stone of Courage and Protection," used often with the Throat Chakra, Aquamarine can be used to enhance verbal self-expression. Rose Quartz makes sure that your wishes are being made in the highest good & from the heart and Citrine, the "stone of abundance," acts as an amplifier to all that you manifest.

This beautifully enchanting alchemy oil comes in a 1/3 oz. pear shaped glass bottle with silver decorative, Victorian style screw-on cap & Star charm. The all natural essential oil blend is diluted with natural Sweet Almond Oil, and is ready to wear as a body oil or use in a magickal bath, aroma lamp or anointing ritual work. Crystal chip stones of Aquamarine, Rose Quartz & Citrine are left in each bottle to keep the magickal workings strong. Each bottle comes in a silver decorative gift box on a bed of Spanish moss.

May all the dreams that you wish upon a star come true *
In Love & Light,
~ Jenna
Sample sizes available in my shop!

************************************************
All Sales Final
Not Meant for consumption.
Keep out of heat and direct sunlight.
Not recommended for women who are pregnant / nursing, small children or animals, due to the natural yet medicinal nature of essential oils.