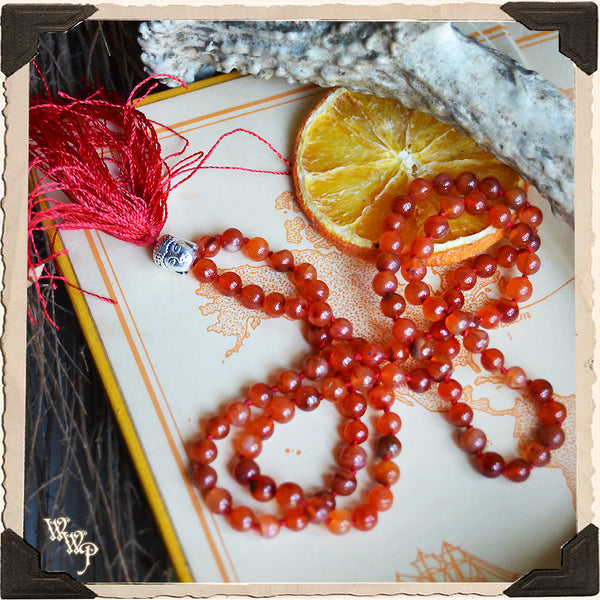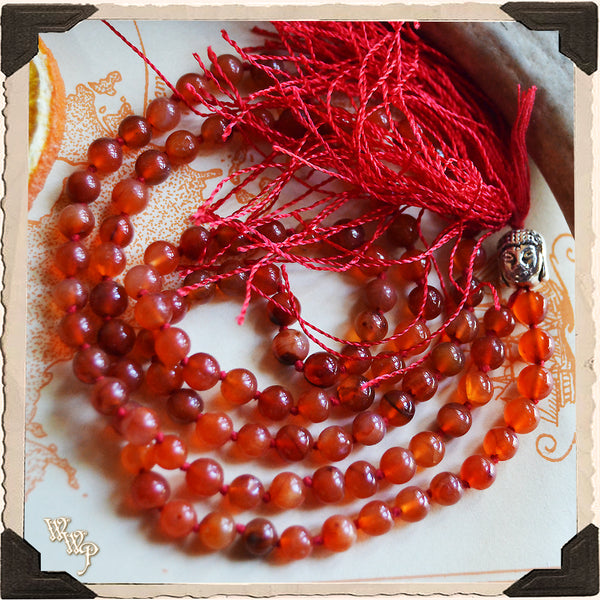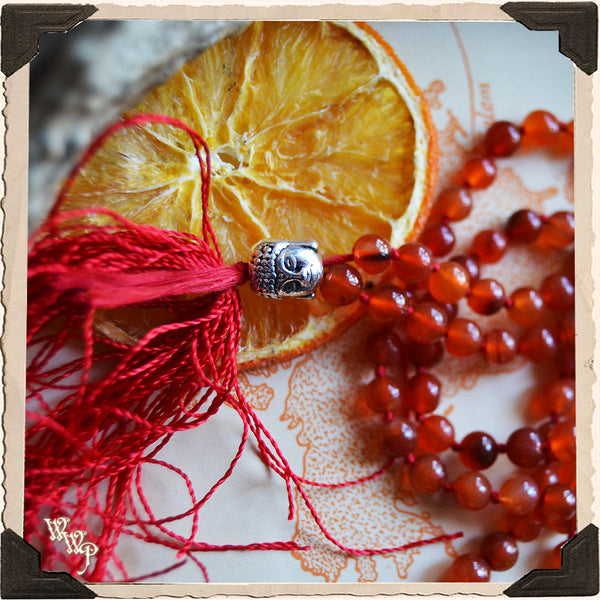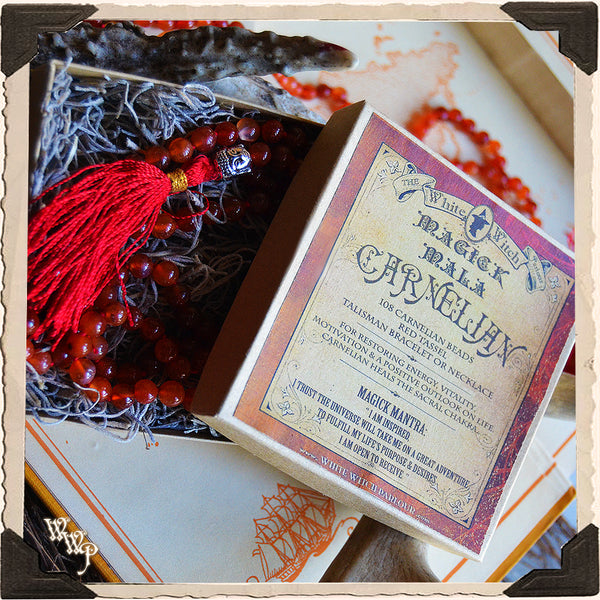 CARNELIAN MAGICK MALA. 108 Beads For Prayer, Positive Energy, Motivation & Courage.
Carnelian shines with a joyous & cheerful energy. It manifests positive energy all around & works with nurturing the Sacral Chakra, thus healing 'the womb' of our soul & aiding in abundant fertility on all paths of one's life. Tied to the Sun's energy, it creates warmth, life & Illumination. It also serves as a reminder of the hot glowing light of our daily sunset & the changing of the season's, which allows for change in the cycle of life. All things come to an end, & with death always comes new life, making Carnelian a special stone to carry during a time of change. It enhances Clarity during troubled situations & the energy to one's get through them with a smile upon the face. It protects against jealousy, rage & anger, while breathing in a new energy of motivation & courage. It emits great Life Force energy & awakens one to their highest good, teaching them leadership skills & confidence along the way.
Mala's hold many uses, as they encourage a repetition of mantra during prayer, breathing exercises or meditation, this created energy can then be carried & worn at all times on the body, to serve as a powerful reminder to keep your thoughts & words in good order. 
ZODIAC: Taurus, Cancer, Leo, Virgo
ELEMENT: Fire
CHAKRA: Root (1st) & Sacral (2nd) 
HOLISTIC: Cleans the Kidneys & enhances bone healing. It can help alleviate lower back pack or stomach cramps. Lifts depression.
Each beautiful Carnelian Mala measures a total length of a 26" strand with 108 knotted, stringed beads, each approx. 1/2cm wide, with a 2" red tassel, ready to wear as a necklace or triple wrapped as a bracelet.  Each enchanting bracelet comes in a jewelry box, with information card containing a blessed mantra, on a bed of Spanish moss, ready to gift to a friend or yourself.

Blessings of Love & Light,   
~ Jenna  

All Sales Final *
* Size & shape of stones will vary as these are a natural product of mother earth. You will receive a set similar to the one in the photo
More crystals in my shop!