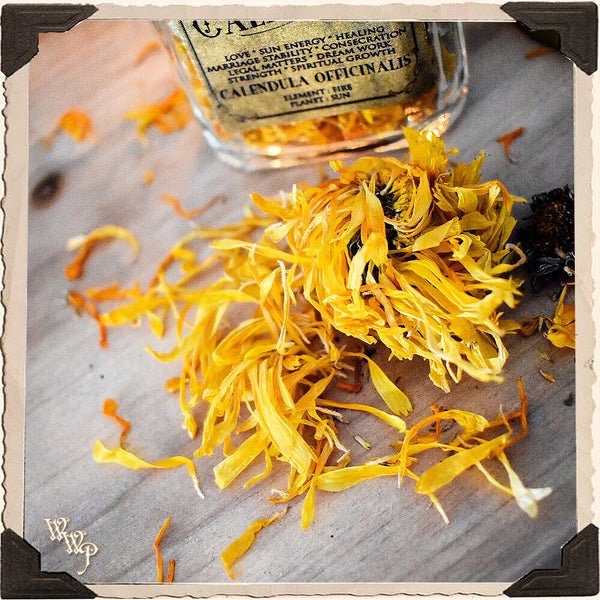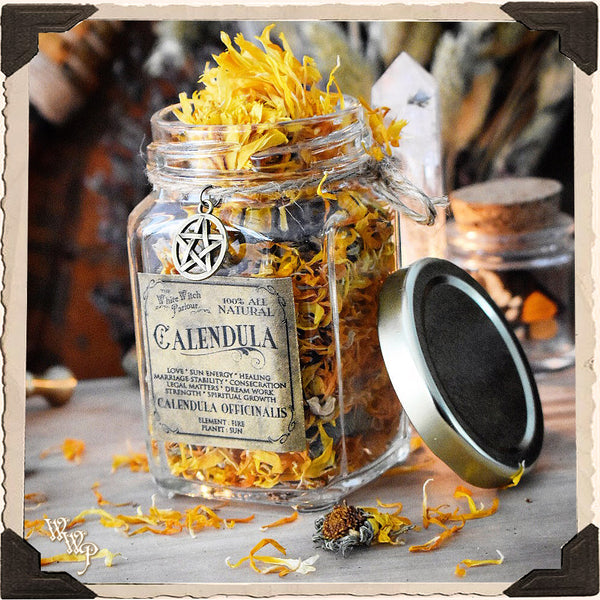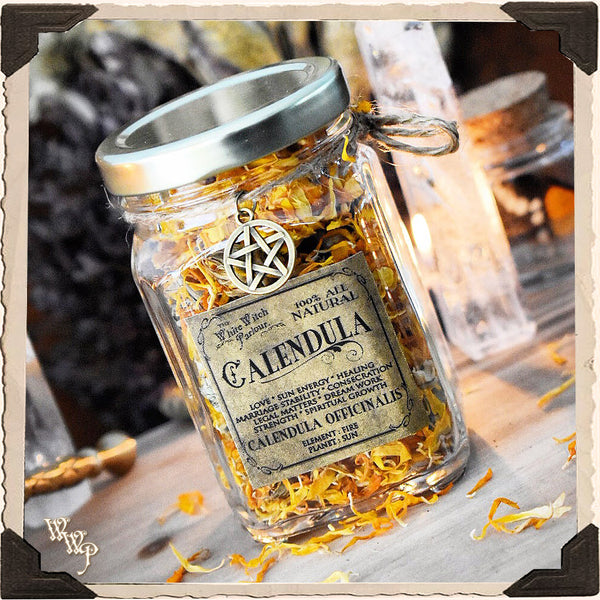 CALENDULA APOTHECARY. Calendula Officinalis Dried Herbs. For Sun Energy, Healing & Strength
Being one of the easiest to grow medicinal herbs, Calendula / marigold, teaches us that life doesn't need to be so difficult & we can still flourish in abundance. A symbol of the Sun, The Calendula flower is  also the traditional "he loves me, he loves me not," flower used in Love spell divination. It's sun like energy, tends to shine light onto a situation, specifically favoring legal matters, love matters or intents of healing.
Botanical Name: Calendula Officinalis
Magickal uses: Sun Energy, Healing, Strength, Love, Marriage, Stability, Consecration, Legal Matters, Dreamwork, Spiritual Growth.
Tip: Toss Calendula into a fire during Summer Solstice to illuminate your spiritual journey
ELEMENTS: FIRE
PLANETS: SUN
CHAKRAS : Solar Plexus (3rd)
Magickal Tip: Place some petals in a jar of Olive or Sunflower oil, to create a consecration oil, which can be used to bring a certain intent into positive vibrations.
Holistic & Medicinal: Calendula / Marigold are edible flowers that are often used in soups, teas or other beverages, it can also be used in lotions, oils or salves to help relieve rashes, burns, keep the skin smooth  & many other uses in the form of Healings, as seen throughout Ancient Egypt & even during the American Civil War.
Each glass apothecary herbal jar contains approx. .50 oz. of All Natural Calendula Flower, topped with a gold screw on lid, informative label & rustic pentacle accents. The pentacle represents the elements ( Earth, Air, Fire, Water & Spirit ) encompassed in a ring of unity, serving as a symbol of protection & connection. There is enough herbs in one jar to last for many uses. Store in cool dry place when not in use. Each square Herbal Jar measures approx. 4" high x 2.5" wide. There are several uses for dried botanical herbs, such as adding to or making magickal sachets or Witch bottles, creating tinctures or perfume oils, creating herbal capsules, tea mixtures, powder incense, bath and body scrubs, soaps & lotions, & so much more!
Magickal Blessings,
~ Jenna 
* All Sales Final.  Herbs & information provided is not meant to treat or diagnose any disease or ailment. Please seek medical attention if needed & always do research before consuming herbs or resins. Many contain natural high medicinal properties, which may be toxic to pets, small children & Women who are nursing or pregnant.
More Apothecary Jars, Burners & Accessories available in my shop!