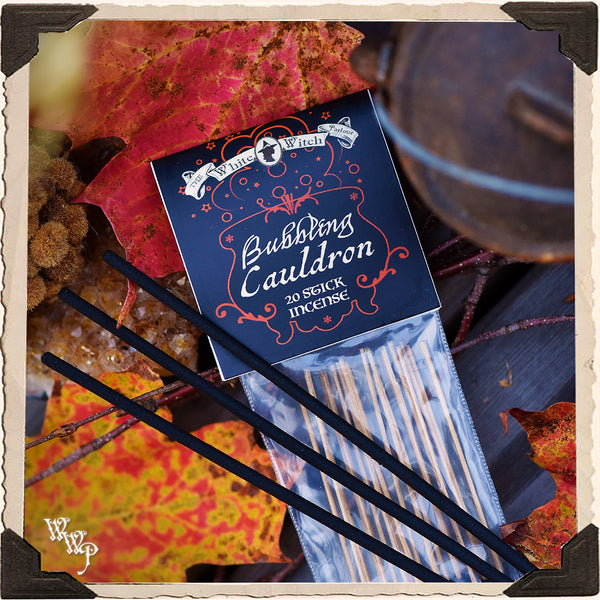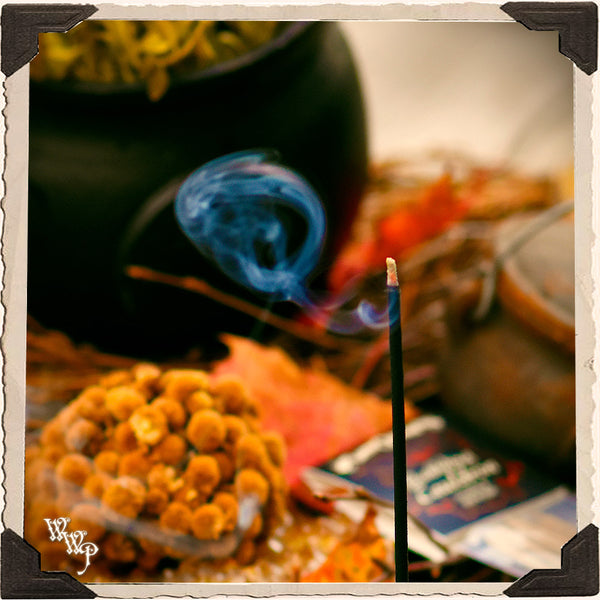 BUBBLING CAULDRON INCENSE . 20 Stick Pack. For Manifestation, Divination & Samhain Protection.
This mysterious smoky scented blend of Tobacco, Bergamot & Mugwort works to welcome in a new awareness on a thinning veil & unlock your Witchy powers. It was created with the intention to tap into deeper meditations, divination sessions, offer protection & raise one's vibrations for more potent magic & manifestations. Blessed with the strength & courage giving crystal of Tiger's Eye & the psychic enhancing stone of Amethyst, this well rounded blend is good for just about any magick you are looking to cast. What intentions are you throwing into your cauldron this evening? This blend was curated to help boost them to the next Witchy level. 
Smokey Tobacco helps us reminisce on something that is old, much like walking into an antique building or opening an old chest, it takes us to the past. Many cultures use Tobacco in ritual to channel the spirit realm, putting them into a meditative space, so they can better receive the messages from the other side, 'cleansing' the body & mind of distractions. Bergamot enchants us with overwhelming trust towards the Divine, instilling our energy with Protection while we work with magick & the spirit world. It provides us with inner courage & a pleasurable vibe to help us focus on the positives, long forgetting the energy of fear or doubt.
Mugwort has been used by magickal practitioners for ages as a dream associative & enhancing psychic skills. It calms the energy of a person, especially when ingested as a tea & helps to awaken the Third Eye, aiding in deeper subconscious travel & spirit world communications.
Tiger's Eye was often used as an ancient talisman, as it combines the elements of both the Sun & Earth, which creates a great channel for spiritual illumination. Amethyst is a meditative and calming stone which works in the emotional, spiritual, and physical planes to provide calm, balance, patience, and peace. In the psychic and spiritual realms, amethyst is an excellent all-purpose stone that can increase spirituality and enhance intuition and psychic powers of all kinds.
These enchanting handmade botanical incense sticks burn for approximately 50 - 60 minutes and are made up of blend of fragrance oil on pressed charcoal & blessed with the energies of Tiger's Eye & Amethyst crystals to help enhance the natural properties. There are 20 magickal sticks in each pack, that yield beautiful and lingering aromas, wherever they are burned.
Magickal Blessings,
~ Jenna 
*All sales are final.  
Incense accessories available in my shop!