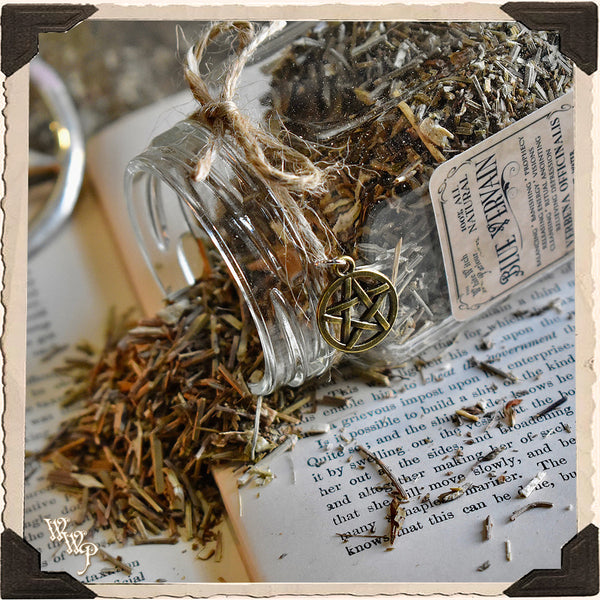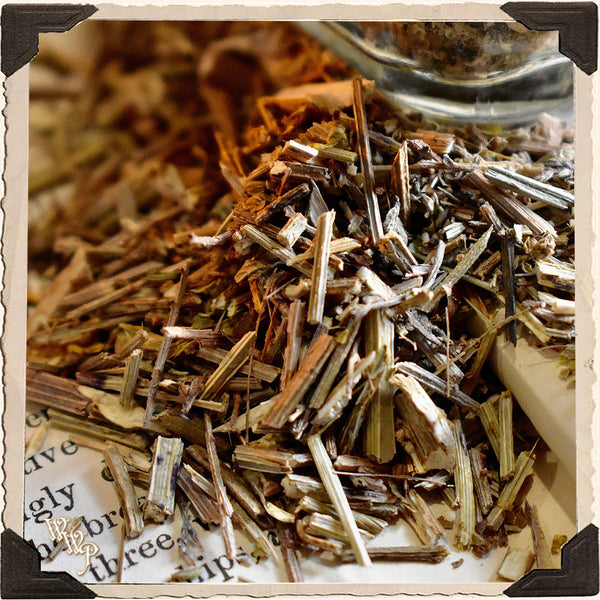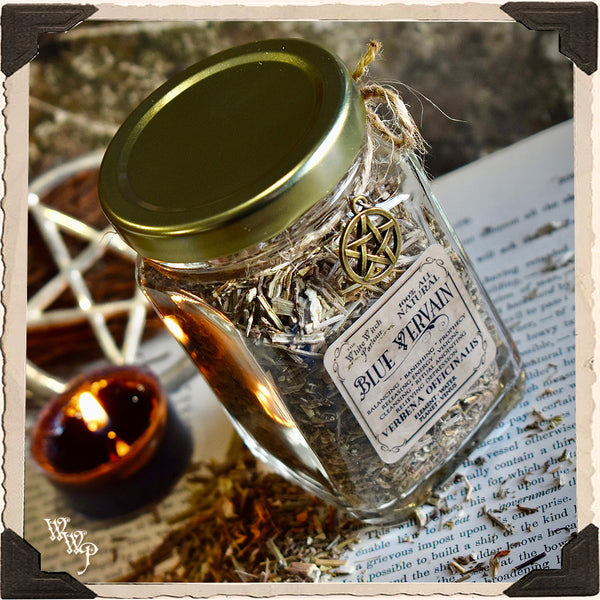 BLUE VERVAIN Dried Herb Verbena Officinalis. For Balance, Anointing & Banishing.
It's Feminine energy brings a balance to dominant energies, allowing an essence of purification to win over any mood. Blue Vervain helps us to lower our guard, so we may work within a higher energy & still feel protected. It helps us to channel though prophecized visions, so we can clearly see what is affecting us negatively in life, & then we may comfortably choose to banish it & bring in a cleansed state of mind.  
Botanical Name: Verbena Officinalis
Magickal uses: Balance, Ritual Anointing,  Banishing, Prophecy, Releasing Energy, Empath, Visions, Cleansing, Healing, Relieving Depression. 
Element Correspondences: Water

Planetary Correspondences: Venus
Zodiac Correspondences: Gemini
Chakras : 2nd Sacral & 4th Heart 

Holistic Uses: If worn in a sachet near the neck, it is said to alleviate headaches. As a tea it can help with insomnia. 

Magickal Tip: Burn as on offering to cleanse & consecrate your sacred 
space for ritual. Scatter it about & around your altar to bring balance to the energy you are working with. 
Each glass apothecary herbal jar contains approx. 1.2oz. of All Natural Blue  Vervain, topped with a gold screw on lid, informative label & rustic pentacle accents. The pentacle represents the elements ( Earth, Air, Fire, Water & Spirit ) encompassed in a ring of unity, serving as a symbol of protection & connection. There is enough herbs in one jar to last for many uses. Store in cool dry place when not in use. Each square Herbal Jar measures approx. 4" high x 2.5" wide. There are several uses for dried botanical herbs, such as adding to or making magickal sachets or Witch bottles, creating tinctures or perfume oils, creating herbal capsules, tea mixtures, powder incense, bath and body scrubs, soaps & lotions, & so much more!
Magickal Blessings, 
~ Jenna
restock
* All Sales Final.  Herbs & information provided is not meant to treat or diagnose any disease or ailment. Please seek medical attention if needed & always do research before consuming herbs or resins. Many contain natural high medicinal properties, which may be toxic to pets, small children & Women who are nursing or pregnant.
More Apothecary Jars, Burners & Accessories available in my shop!