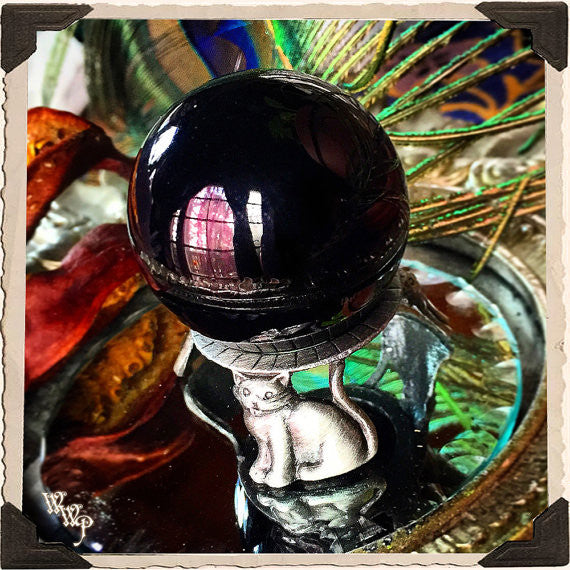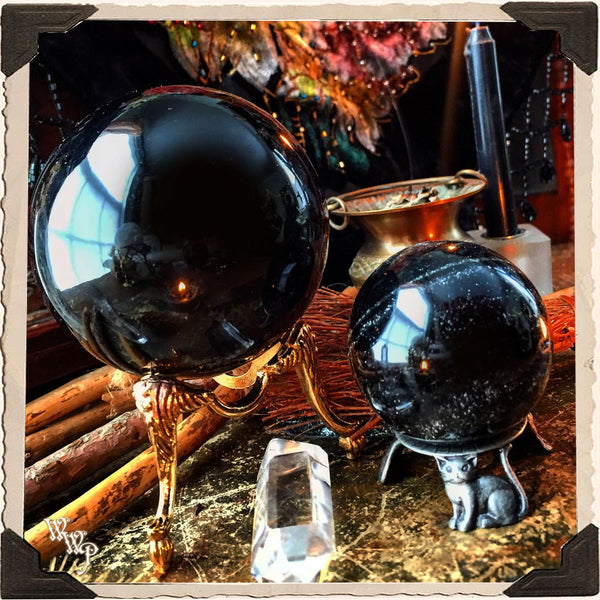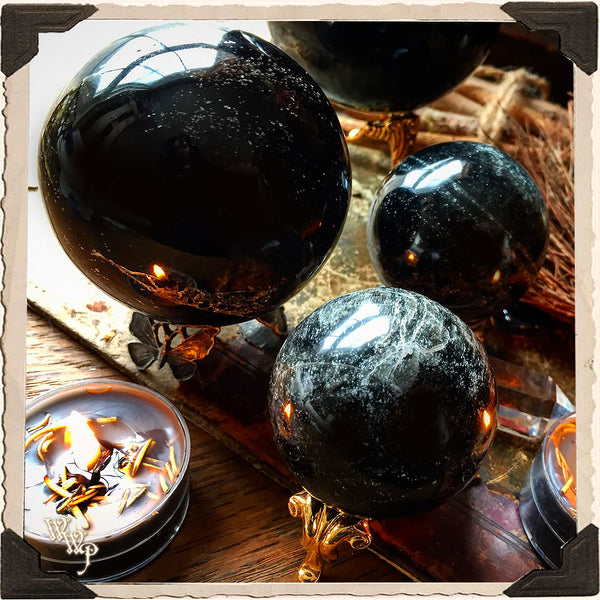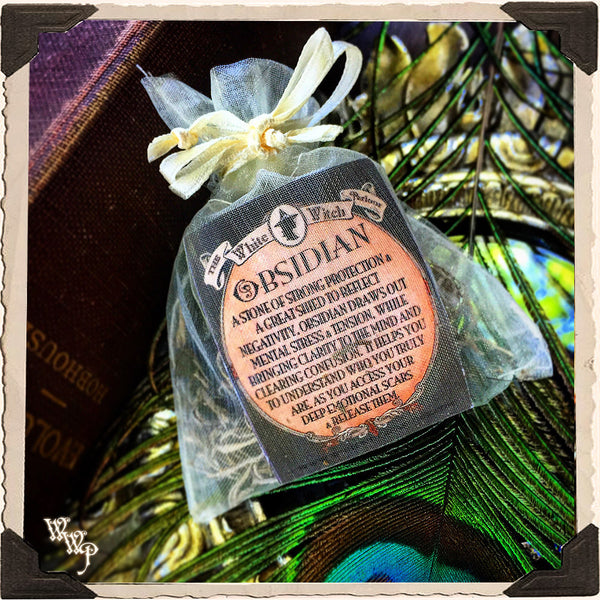 BLACK OBSIDIAN SPHERE CRYSTAL. For New Moon, Protection, Scrying & Divination.
A stone of strong protection & a great shield to reflect negativity; Obsidian draws out mental stress & tension, while bringing clarity to the mind and clearing confusion. Black Obsidian can help you to understand who you truly are as you access your deep emotional scars & release them. When used in any form of divination work, it creates a stronger bond to the spirit world, accessing in higher knowledge & insight into the 'void,' as used for centuries by crystal gazers and shamans for spiritual healing & advancement. It is said that it enhances self-control & brings courage to the user during times of change. Obsidian brings the power of prophecy & enhances personal magick as it creates a strong shield of protection from negative energies and psychic attacks. It helps to cleanse the auric field of impurities that may latch to your physical and emotional energies, helping to heal you spiritually.

Said to be a form of volcanic glass, created by quick cooling molten lava; it's shiny surface works great in dim light, preferably candlelight, to communicate with loved one's who have passed on & all while offering great protection to your clairvoyant qualities. It also welcomes strong grounding energies to Mother Gaia. (The great mother of all- Greek Goddess)

In sphere form, the energies of this crystal radiate in all directions, purifying any room.


ZODIAC: Scorpio & Sagittarius 
CHAKRA:  Root
HOLISTIC: Detoxification to the body & aiding arthritis pain.
Each crystal sphere chooses its new home, as you will receive 1 piece per order & comes with a beautiful ivory organza bag, on a bed of spanish moss & information card. Before use of your new crystals, it is always a good idea to consecrate each stone for it's intended purpose. You can do so, by smudging (with sage) each stone to clear any energies it has absorbed and putting your intention forth on each stone, resetting & programming it for how it will help you. 

Blessings of Love & Light,   
~ Jenna 

All Sales Final *
* Base / sphere stand not included *  
Sphere Stands available in my shop!
* Size & shape of stones will vary as these are a natural product of mother earth. You will receive a set similar to the one in the photo