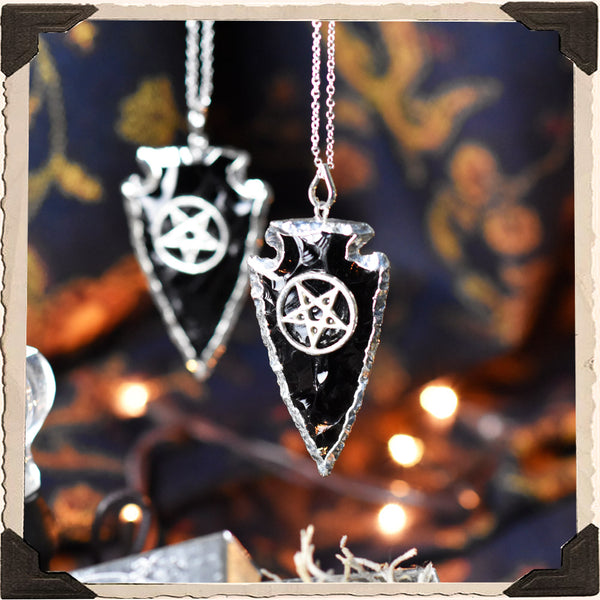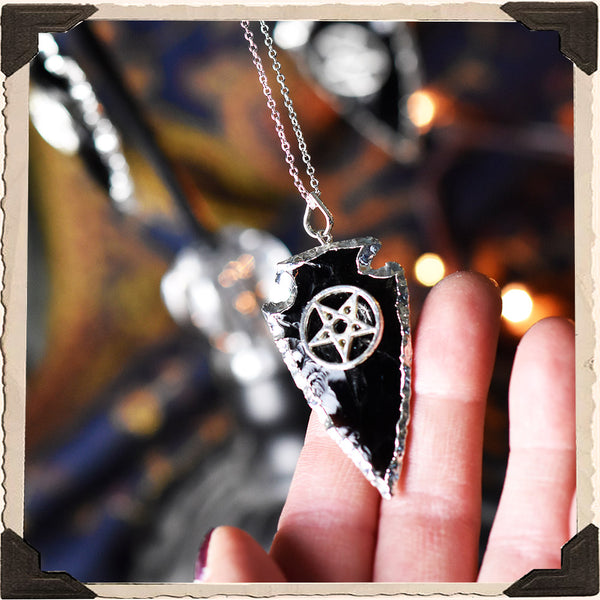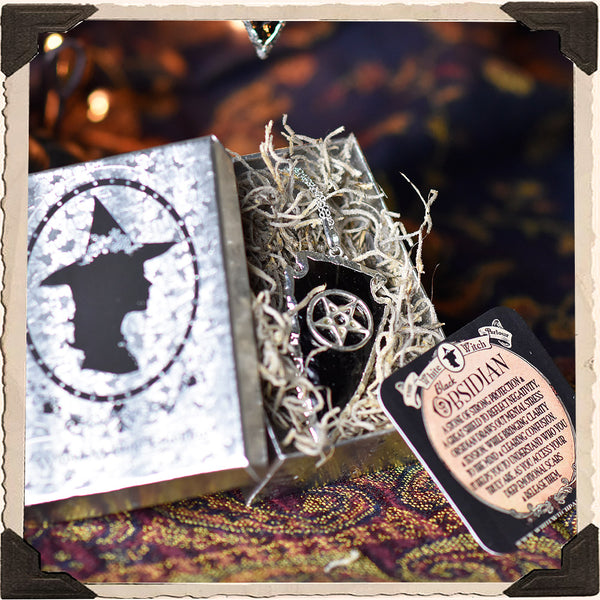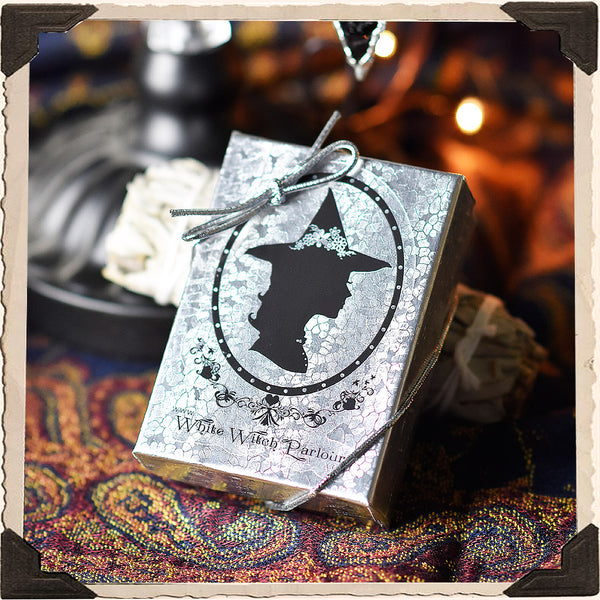 On Sale! BLACK OBSIDIAN ARROWHEAD TALISMAN NECKLACE. For New Moon, Protection & Black Magic
Regular price
$26.00
Sale price
$22.00
---
A stone of strong protection & a great shield to reflect negativity; Obsidian draws out mental stress & tension, while bringing clarity to the mind and clearing confusion. Black Obsidian can help you to understand who you truly are as you access your deep emotional scars & release them. When used in any form of divination work, it creates a stronger bond to the spirit world, accessing in higher knowledge & insight into the 'void,' as used for centuries by crystal gazers and shamans for spiritual healing & advancement. It is said that it enhances self-control & brings courage to the user during times of change. Obsidian brings the power of prophecy & enhances personal magick as it creates a strong shield of protection from negative energies and psychic attacks. It helps to cleanse the auric field of impurities that may latch to your physical and emotional energies, helping to heal you spiritually.

Said to be a form of volcanic glass, created by quick cooling molten lava; it's shiny surface works great in dim light, preferably candlelight, to communicate with loved one's who have passed on & all while offering great protection to your clairvoyant qualities. It also welcomes strong grounding energies to Mother Gaia. (The great mother of all- Greek Goddess)

Native Americans have long believed that wearing an Arrowhead Talisman around your neck is a symbol of protection and strength. It has also acted as an icon of courage, protecting whoever wore it from illnesses and negative energy.
ZODIAC: Scorpio & Sagittarius 
CHAKRA:  Root

HOLISTIC: Detoxification to the body & aiding arthritis pain.
The pendant hangs on a shiny Silver plated 22", lobster claw clasped chain, easy to layer with other necklaces or wear on it's own. Each pendant measures approx. 2" in length & comes in a decorative keepsake gift box on a bed of Spanish Moss with an informational label, ready to gift to yourself or a loved one. Each Obsidian Arrowhead pendant is lined with silver edging & holds a Pentacle Star in the center. ( Please note star position/ direction may vary )

* Please note that size, shape & coloring of each stone may vary, as this is a natural gift from Mother Earth. Each piece chooses it's new home :)
More crystals & Sage Smudge available in my shop!

Brightest Of Blessings, 
~ Jenna

*All Sales Final