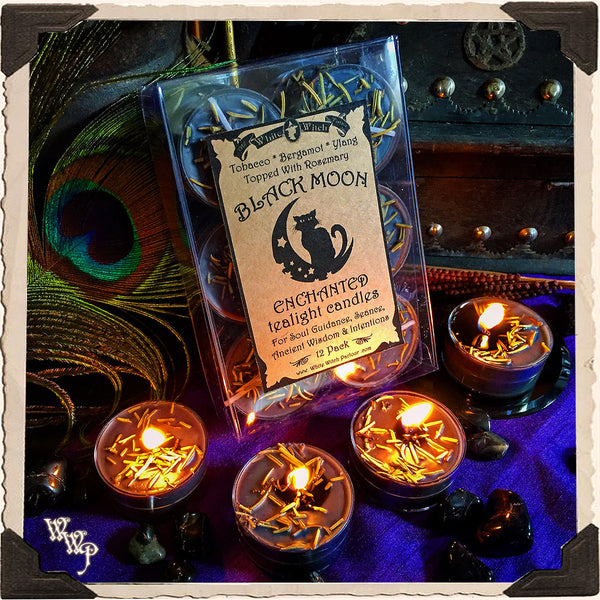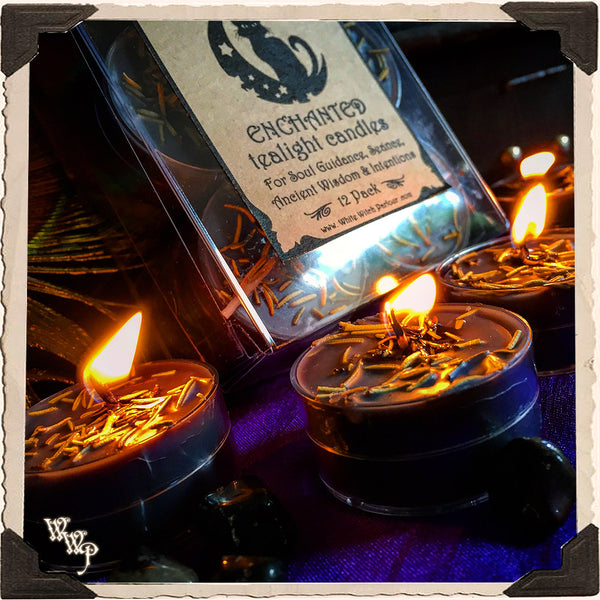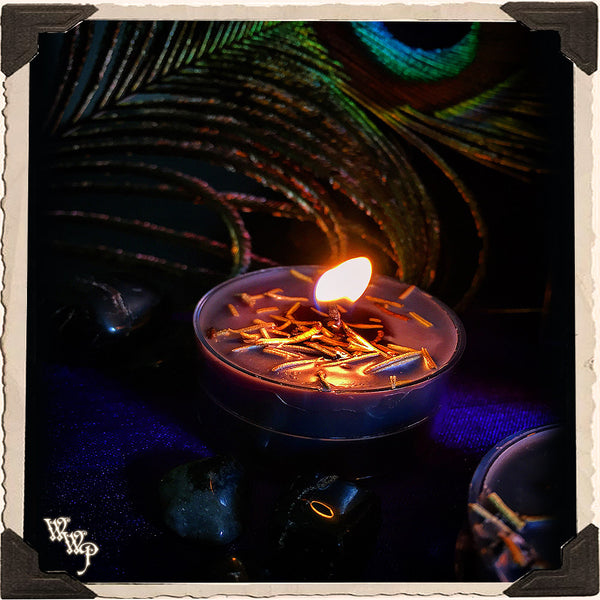 BLACK MOON TEALIGHT CANDLES. 12 Pack. For Soul Guidance, Ancient Wisdom, Seance & Intentions.
This mysterious blend of Tobacco, Bergamot & Ylang Ylang with sprinkled blessing of Rosemary herb, welcome in a new awareness. It was created with the intention to 'travel' deeper into the soul, mind's eye & spirit realm, while triggering the memories from lives past, to better help you understand who you truly are.  Inspired by the energy of a New or Black Moon, it is powerful to work with one's own darkness to better understand the light. It is a time of reawakening in the subconscious state to set the deep rooted intentions for one's own future. 
Smokey Tobacco helps us reminisce on something that is old, much like walking into an antique building or opening an old chest, it takes us to the past. Many cultures use Tobacco in ritual to channel the spirit realm, putting them into a meditative space, so they can better receive the messages from the other side, 'cleansing' the body & mind of distractions. Bergamot enchants us with overwhelming trust towards the Divine, instilling our energy with Protection while we work with magick & the spirit world. It provides us with inner courage & a pleasurable vibe to help us focus on the positives, long forgetting the energy of fear or doubt. Ylang Ylang, ties in the energies of spiritual cleansing, helping one to better visualize or obtain prophetic dreams & visions. It calms the emotions & promotes healing to the body, mind & spirit. Sprinkled with the purification & protection of Rosemary, this blend will put a spell on you & push you to seek your truth. 
A haunting blend of hand-poured 1/2 oz. Tealight candles with an approx. burn time of 4 hours each. With 12 candles per pack, you are sure to get lots of magickal use out of these special candles. This alluring blend of essential oils, high grade fragrance oils & enchanted herbs, find way into a hand poured batch of Soy wax, leaving each candle to ignite new magick & beautiful scent.  

 May you find solace in the shadows,
~ Jenna  

*All sales are final.
Store in cool dry place, keep from heat or direct sunlight. Never leave a lit candle unattended or near flammable items such as curtains. Always think of safety when using open flame *

*Free of Harsh Chemicals & Animal Testing.

Check out more candles & accessories in my shop!