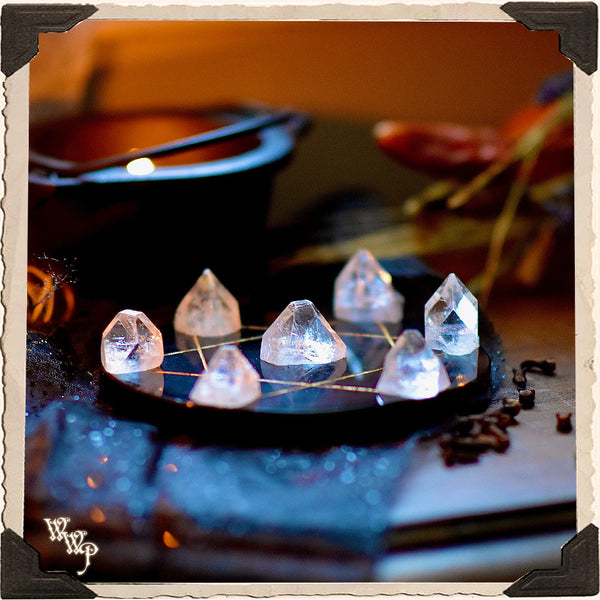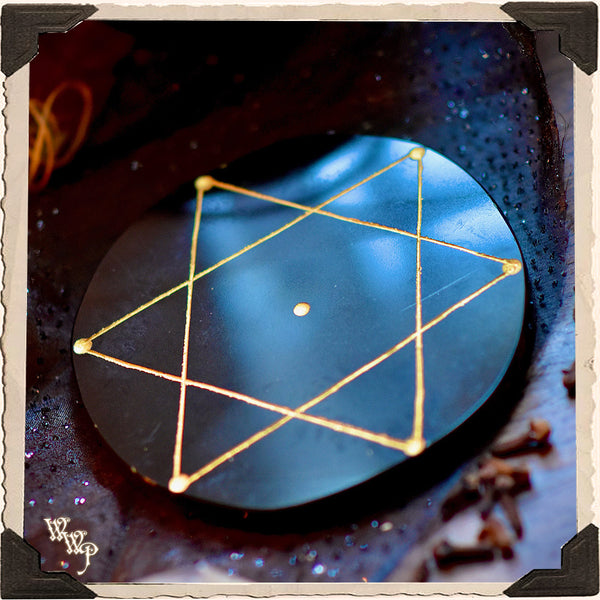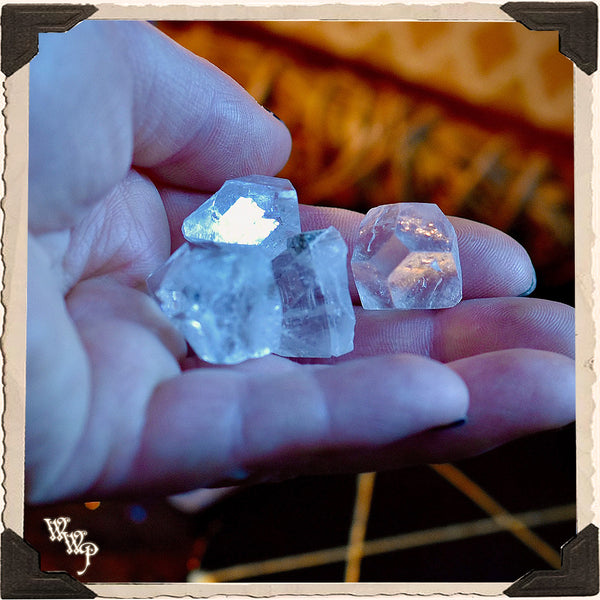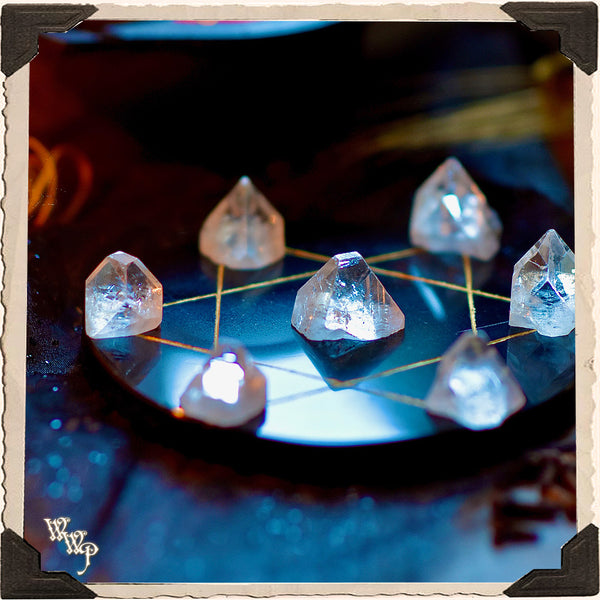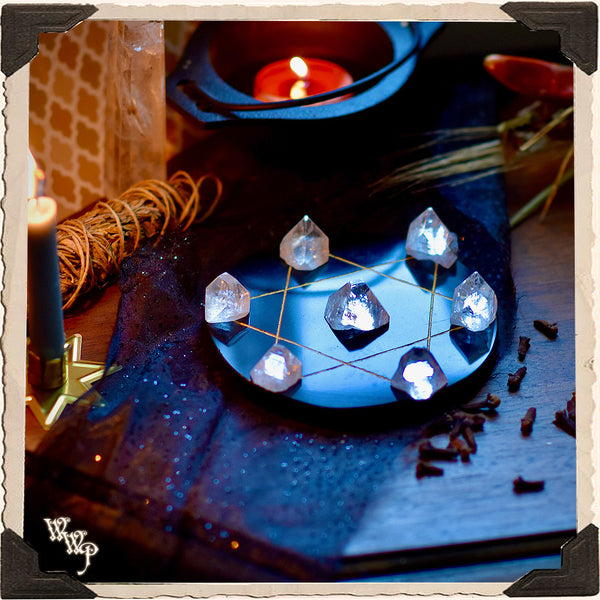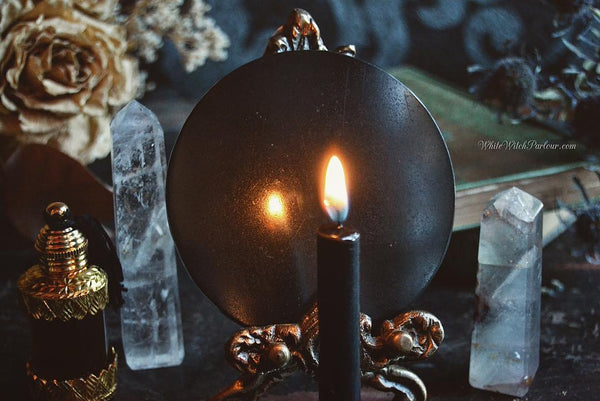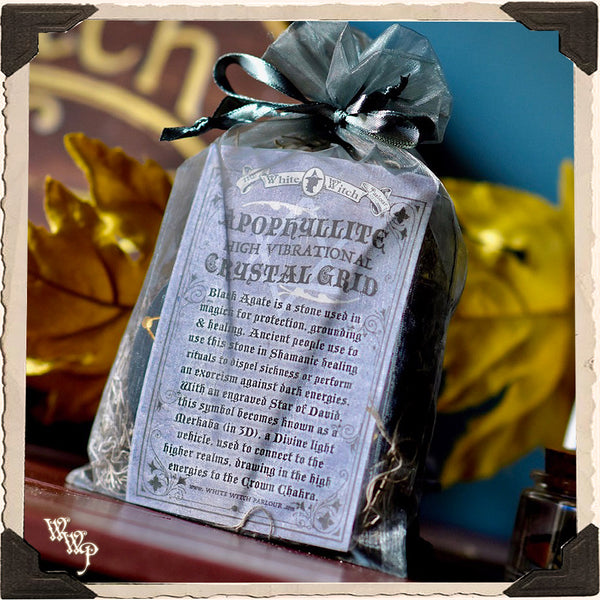 BLACK AGATE & APOPHYLLITE CRYSTAL GRID SLAB. For Scrying & Energy Generators.
Regular price
$70.00
Sale price
$55.00
---
A high vibrational set, to create an enchanting crystal grid that works to elevate the energy of your sacred space, recharge your chakras & enhance your magic.
Black Agate is a stone used in magick for protection, grounding & healing. I promotes strength to move forward, bringing harmony to the space. Ancient people used to use this stone in Shamanic healing rituals to dispel sickness or perform an exorcism against dark energies. It was traditionally also used in times of battle, either worn on the breastplate of a soldier or carried in a medicine bag. When used as the base of a crystal grid, it works to push away any negative energy or distractions, allowing the crystals laid out in grid formation to generate and amplify their purpose. By incorporating the sacred Star of David symbol, which dates back to the 17th century, when it was also called the "Shield of David," it symbolizes the connection of both the internal & external dimensions. It displays the connection between three entities of a higher consciousness or Divine state. Helping us to reconnect with our Soul, a reflection of the Divine, and better find our purpose here on earth. In a three dimensional state, this symbol becomes known as a Merkaba, a Divine light vehicle, used by Ascended Masters to connect to the higher realms.  
Apophyllite is a stone of Light energy, healing the body, mind & spirit, & pulling in the sacred wisdom from the Divine. It allows one to raise the vibrations, protect the aura, channel light beings & heal the self & others with sacred love & light energy. It aids as a portal for Angelic communication & guidance, making it a powerful tool for enlightening your consciousness during deep meditation. It helps to stimulate the Pineal gland & spiritually awaken the mind to the truths that have long been hidden. These unique Vibrations, allow one to enrich their lives in many ways, including amplifying the positive energy in any room that it is in. It helps to release negative thought patterns & action, lowering stress & anxiety & opening the user's eyes to the beauty in the world. Placed over the third eye in meditation enriches the subconscious mind with light & healing energy, stimulating one's psychic awareness.
In Pyramid form, it channels guidance from the Divine & Angelic Realms, making it a powerful tool for spiritual growth. It can increase the power of Healing, Protection & Balance, as it inspires a new lease on life, to live with the fullest potential, projecting powerful love & healing light from the heart onto all who surround it.
Each magical Black Agate slab, measures appox. 4" - 5". Each Round Disk has a slightly polished & reflective surface, with a crude etched, Gold Star of David that sits in the middle, that holds 7 Apophyllite crystal points, that measure roughly 1" - 1.5" each. The slab lays about 1/4" thick, with a smooth black backing, that can double as a stone scrying mirror. The individual Apophyllite cystal points can be placed over your chakras for energy healing. Each set comes in a gray organza bag on a bed of spanish moss with information card, ready to gift to yourself or a loved one.

* Slight "scratches" or "cracks" may appear on surfaces, much like marble veins.   
More accessories available in my shop!

Blessings to you my fellow Witches,  
~ Jenna  
 
*All sales final