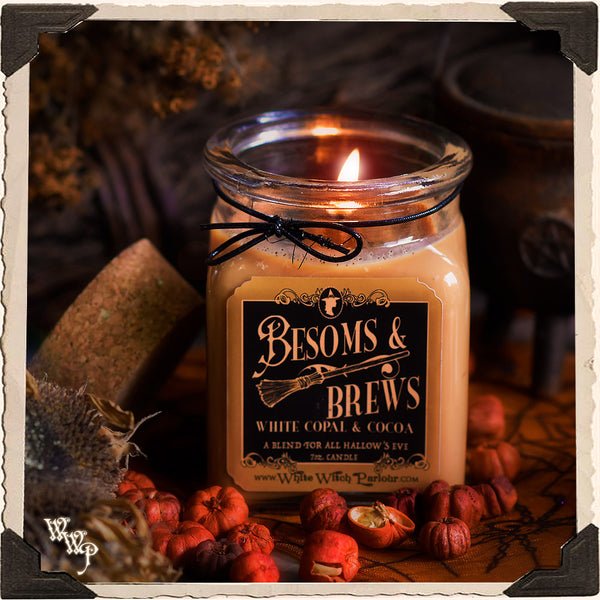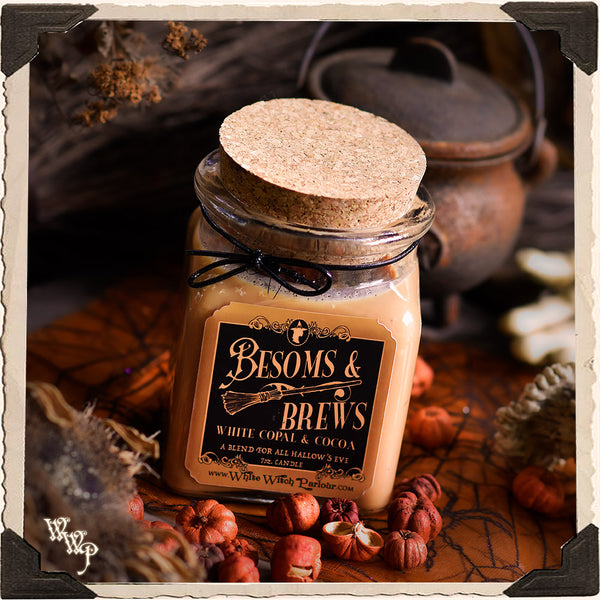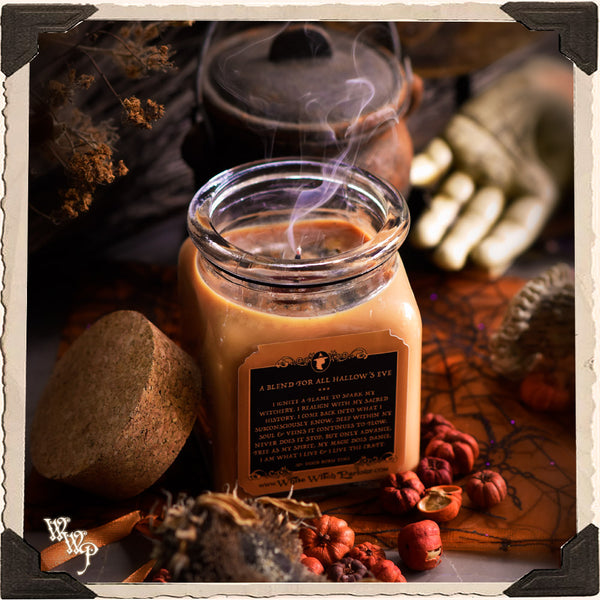 BESOMS & BREWS Apothecary CANDLE 7oz. For Hallow's Eve, Witchery & Autumnal Energy.
Sometimes we go through vibrational shifts that hold a lower energy, making us feel in a "funk," disconnected from our craft. It's ok. Use this energy to reflect & soon you will find yourself re-inspired to jump back into your Witchy ways with stronger energy. This is the energy that inspired this candle. It's fun to reconnect to our Witchery & often the cliche` imagery of All Hallow's Eve can stir up the energy within us again. White copal is an energy lifter, it vibrates at a higher frequency, which helps one to re-ignite their creativity & light. Cocoa, long used for divination purposes in ancient ritual, helps us to tap back into our Third Eye Chakra & understand our subconscious thoughts. Together, with the blessing of Clear Quartz, this blend can help to conjure emotions that are beneficial & inspiring, grounding & familiar. The scent seems to change, depending on the vibration you need at that time. Sometimes it smells of apples, opium or cinnamon, candy corn or chocolate, pumpkins, copal resin, or Butterscotch, all Autumnal vibes, that seem to find your needs in that moment. A marbleized top of orange & black ( Black Salt for Protection  a biodegradable organge glitter), allow the Sacral chakra to bring comfort & the void of black to awaken the 'unknown' possibilities that await. 
 My prayer for use:
 " I ignite a flame to spark my witchery. I realign with my sacred history. I come back into what I subconsciously know, deep within my soul & veins it continues to flow. Never does it stop, but only advance, free as my spirit, my magic does dance. I am what I live & I live the craft."  

Candle Apothecary at its finest. In a beautiful 7oz. glass corked jar, with up to a 60 hour burn from a paper-core wick; this hand-poured soy Candle is perfect for any altar, big or small. It comes in an orange & velveteen spiderweb organza bag with hangtag, ready to gift to a friend or yourself. 
Wishing you a reconnection with your Witchery,
~ Jenna
*All sales are final. 
Store in cool dry place, keep from heat or direct sunlight. Never leave a lit candle unattended or near flammable items such as curtains. Always think of safety when using open flame * 
Check out more candles & accessories in my shop!