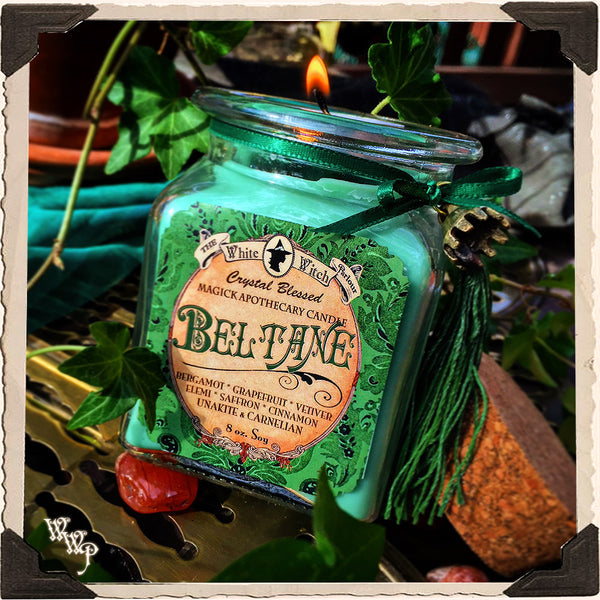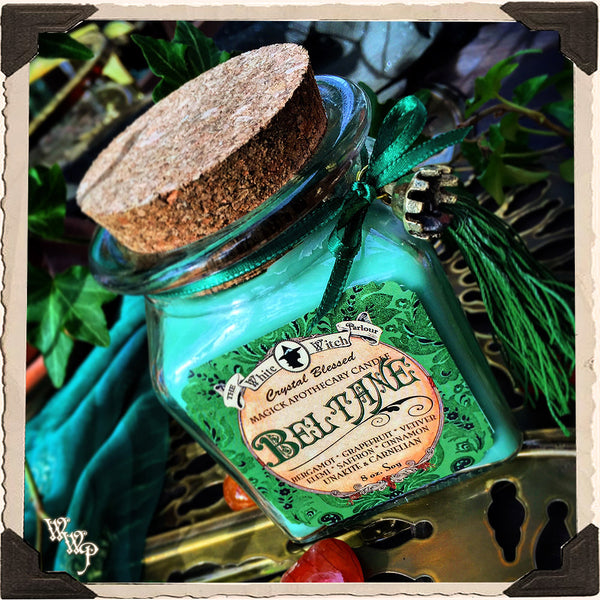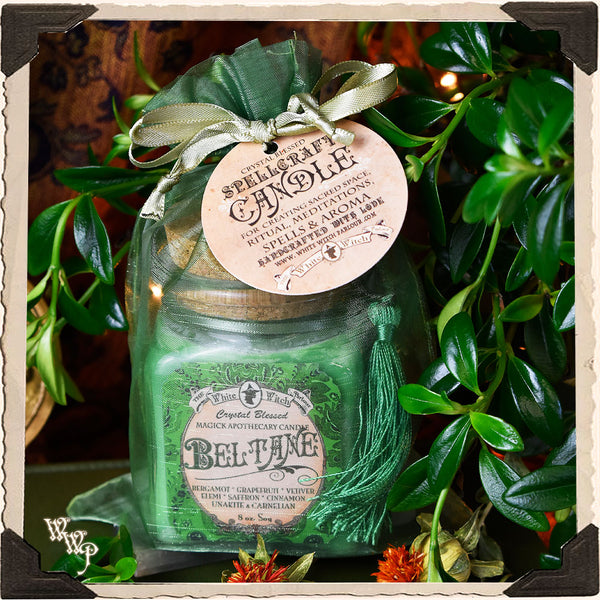 BELTANE APOTHECARY CANDLE 8oz. For May Day, Fertility & Abundance.
Beltane marks the halfway point between the Spring Equinox & Summer Solstice & falls on May 1st, otherwise known as ' May Day.' Celebrating this time of warmth & life, many rituals revolved around Fertility, Bonfires & May-Pole Dances. The significance of fire in many of these rituals, holds the qualities of the sun, bringing illumination, life, growth, purification & rejuvenation. In ancient times, farmers would often lead their cattle between two bonfires, during Beltane, to bless them with safety, as they wandered into the Summer fields. Bonfires work to bring people together, conjuring an energy of community & growth; during this season, many couples would act in a ceremony of fertility, jumping together over the flames to enter through the 'gateway' of abundance, passion & new life. Often used for a symbol of Beltane is the Green Man or a man with antlers, which symbolizes the unity between man & nature. It is a sacred blessing we own in this physical life, as the Green Man also reminds us that we are not only made of nature, but we will one day also return to nature, teaching us to live a life full of abundance & laughter. The message is simple, yet powerful, It is time to make the best of things & celebrate all the beauty around & within us. 

A spicy green & fresh citrusy blend of oils reminding us of the powers of nature. Tied together as one, the elements of fire & earth bring us both destruction & life, a fine balance that we also carry within ourselves. Together the complex alchemy blend of Bergamot, Grapefruit, Elemi, Vetiver, Saffron & Cinnamon purifies & cleanses the aura, strengthening one's energy field, offering protection against all negativity, & an increase in the universal energy flow, as it grounds both the mental and emotional bodies. It inspires the rites of passage, initiation and new beginnings. It helps one to let go of per-conceptions and old ideas at the dawn of a new chapter in life. It is a great way to honor the spirits of nature & focus the mind during a fertility or prosperity meditation. Charged with the energies of Unakite & Carnelian, it can offer a reminder of the driving force that dwells with the spirit. Together they help to foster a healthy relationship through balanced emotions, heal the reproductive system, help one to release anger of self, open the heart, give abundant energy, happiness & cheer. All as one, this unique blend can help one to create a very promising future.  


Candle Apothecary at its finest. In a beautiful 8oz. glass corked jar, with up to a 60 hour burn from a paper-core wick; this hand-poured soy Beltane Candle is perfect for any altar, big or small & arrives in a green organza bag with hangtag ready to gift. This powerful candle can aid in welcoming warmth & cheer, dispelling any negative energy & allowing for a beautiful glow from the heart. I have also sprinkled hand-ground blessed chip stone powder of Unakite & Carnelian into the wax of each candle to keep the spiritual vibrations high & in good trust, as well as protected by the ringing of the bell charm tied to each one. Whether you decide to use this candle all month long or specifically for a May Day Celebration, it can enhance the magick for whatever ritual or ceremony you may choose to embark on. The brightest of blessings to you and and your loved one's this season of new life!

Beltane Blessings,  
~ Jenna
A beautiful, hand-crafted blend of both all natural essential oils & high grade fragrance oils, blessed with the energies of the associated crystals in an all natural organic soy wax. Free of Harsh Chemicals & Animal Testing. Store in cool dry place, keep from heat or direct sunlight. Never leave a lit candle unattended or near flammable items such as curtains. Always think of safety when using open flame * RECYCLE! when you are finished using this candle, you can remove the label and remaining wax under warm water and reuse the jar for other crafty magickal projects or storing herbs.  *All sales final.
More candles & accessories available in my shop!