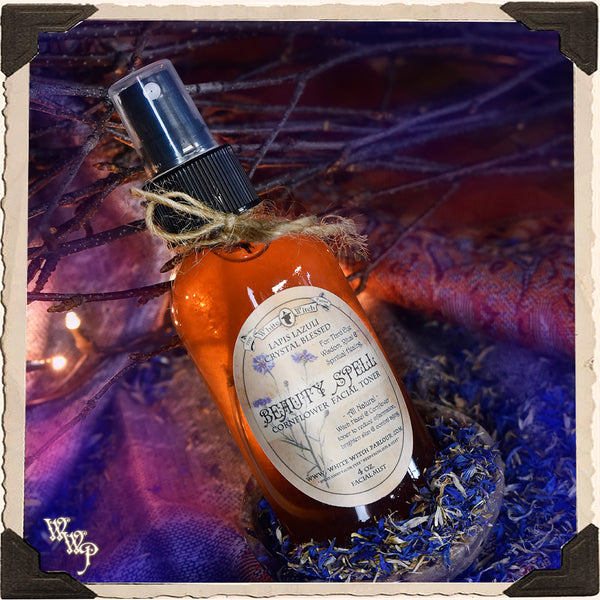 DISCONTINUED: BEAUTY SPELL CORNFLOWER FACIAL TONER. All Natural For Psychic Healing & Third Eye Wisdom
ONCE THESE ARE GONE WE WILL NOT CARRY THEM AGAIN!
This blend of Cornflower infused Witch Hazel with the essence of Lapis Lazuli crystal, will enchant you in so many ways. From it's beautiful natural coloring, to it's soft & gentle natural scent. On clean skin, spritz a little & gently rub in, with clean hands in circular motions. It works as an astringent to quickly heal blemishes & cornflower works to create a natural glow. 
Cornflower's natural indigo coloring vibrates to heal the Third Eye Chakra, working to awaken one's psychic awareness, enhance self knowledge, heal intuitive blocks & access inner wisdom. Cornflower is a powerful took for Indigo Children that seek their spiritual connection, when carried as a talisman, consumed as an herbal tea or used in meditation rituals for spiritual abundance. With it's branches long used for the art of dowsing, Witch Hazel is a powerful plant often used for remedies regarding healing.  In magick, this is also the case, as it's strong 'healing' nature works to mend a broken heart, reverse hexes & cleanse the aura, offering inspiration to matters of love, creativity & calm emotions. Witch Hazel works through powers of divination when needed, bringing forth wisdom & enchantment. It enhances beauty through the power of healing, encouraging empowerment. Lapis Lazuli works to enhance your spiritual awakening & divine connection to Source. It promotes self confidence, inner truth & manifestation, as it works with the Throat Chakra to bring about one's true artistic or business talents. It creates a positive belief system in magick & personal power, encouraging clarity to one's life purpose.

This Alchemy Spray comes in a beautiful 4 oz. Glass Apothecary Bottle filled with an All Natural Cornflower infused Witch Hazel, blessed by Lapis Lazuli, ready to spritz on the face, with eyes closed, and gently rubbed into the skin, to evenly tone clean skin. It can also be used an energy lifting smudge spray to elevate a space.
Beautiful Blessings,
~ Jenna

 A beautiful, hand-crafted Potion blend of both all natural ingredients, created for use on Skin. Not meant for consumption. Keep away from small children & pets. If irritation on skin occurs, discontinue use immediately.  Keep out of heat or direct sunlight, to prolong the shelf-life of the spray.
**All sales are final. ** 
More Magickal Goodies available in my shop! 
* All Sales Final.  Herbs & information provided is not meant to treat or diagnose any disease or ailment. Please seek medical attention if needed & always do research before consuming herbs or resins. Many contain natural high medicinal properties, which may be toxic to pets, small children & Women who are nursing or pregnant.
More Apothecary Jars, Burners & Accessories available in my shop!