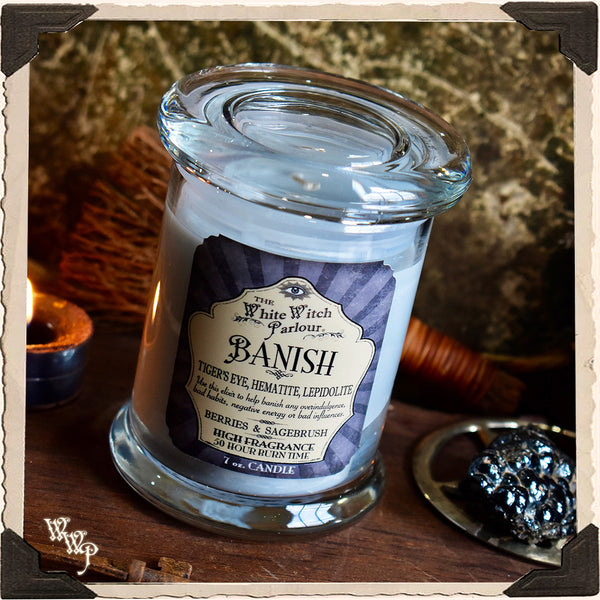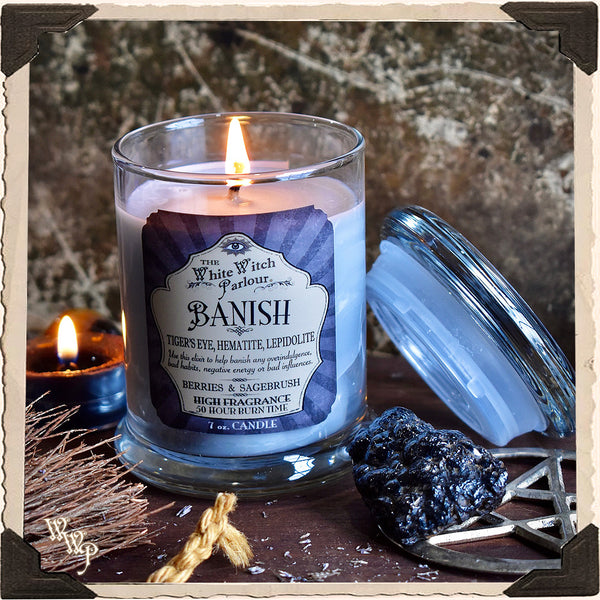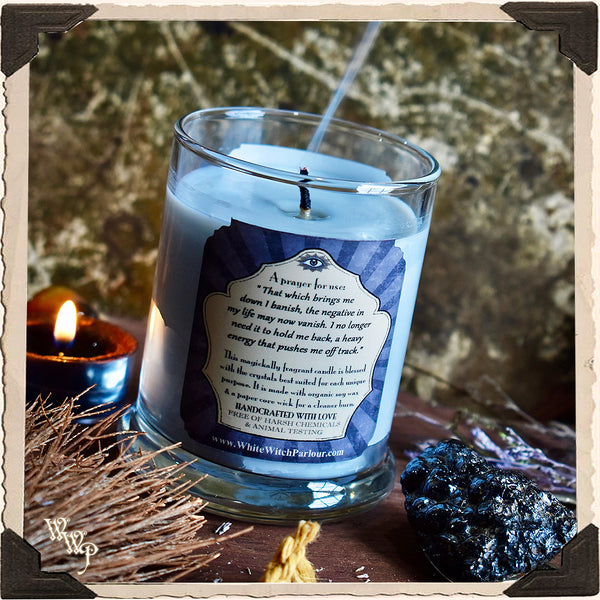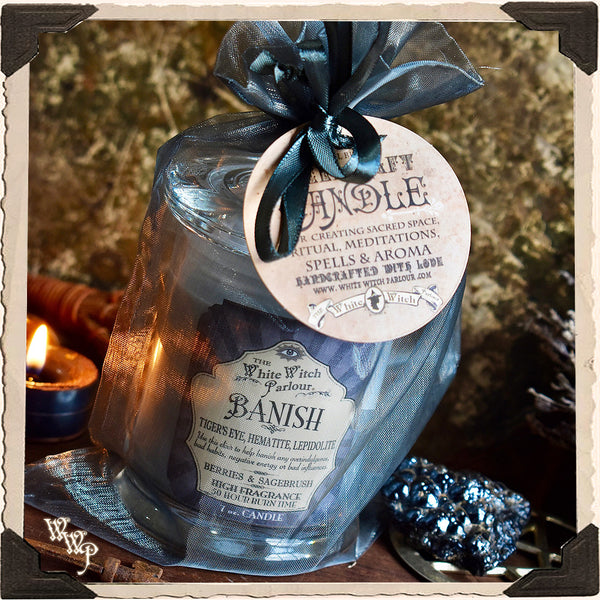 BANISH Elixir Apothecary CANDLE 7oz. For Removing Hexes, Curses & Negative Energy.
There are times that we may get confronted with undesirable realities, upon these moments, we may reflect on how or why this is happening. Well, truthfully, our minds created these realities & just as they created them, they can undo or banish them away. Sometimes these problematic energies can be people, so when we decide to banish someone from our lives, we are not causing or wishing them harm, only cutting the cord that once tied us together. Since banishing energies can allow us to once again feel refresh & renewed by the "weight" lifted off the shoulders, it tends to breathe new life into us, which is why this banish blend is good to help life negative moods in general, warding off energy harming vibrations.  
Since the ancient times, Witches & Shamans alike used Sagebrush as a smudge during rituals & ceremonies to drive away evil spirits, protect one from the evil eye, heal emotional damage & protect against fatalities. Often placed in talismans & amulets, Sagebrush has worked as a shield for centuries, when placed upon individuals. It is said that Isis wore garlands of Sagebrush & adorned altars with it. It is said to be the bitter smell of Sagebrush that drives away demons & evil spirits that are drawn to low vibrational energy. Mixed with a blend of berries & blessed with Lepidolite, Tiger's Eye & Hematite stones to help raise one's vibrations & welcome healing, acceptance, protection, courage through transformation & emotional stability. 

* Never act with the intention of harming another. To banish someone, you are simply cutting the cord of their negativity that affects your life. You control your own reality; If you are attracting many negative influences and "bad" people in your life; take a moment to see what it is within yourself you need to change to break the pattern.
My Prayer for use:
" That which brings me down I banish, the negative in my life may now vanish. I no longer need it to hold me back, a heavy energy that pushes me off track. "  
A magickal hand-poured 7oz. candle can be used for spells or just the aromatherapy that it offers. This decorative jar candle is made up of organic soy wax, non-toxic paper-core wick, fragrance / essential oil blend & is charged with the associated crystal chip gemstones mixed into the wax. The magickal aura around each candle is powerful on its own, creating a shift in energy of any room it is left in. This beautiful candle offers a high scent throw & many smiles :) It holds an average burn time of 50+ hours. It comes in a reusable glass apothecary jar with lid, packaged in a beautiful color matching organza bag & hangtag ready to gift to a friend or yourself. Blessings,

~ Jenna 
*All sales are final.
Store in cool dry place, keep from heat or direct sunlight. Never leave a lit candle unattended or near flammable items such as curtains. Always think of safety when using open flame * 
Check out more candles & accessories in my shop!