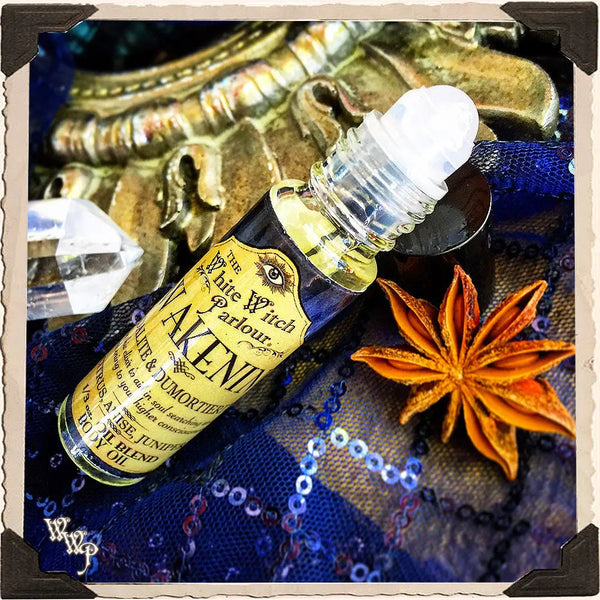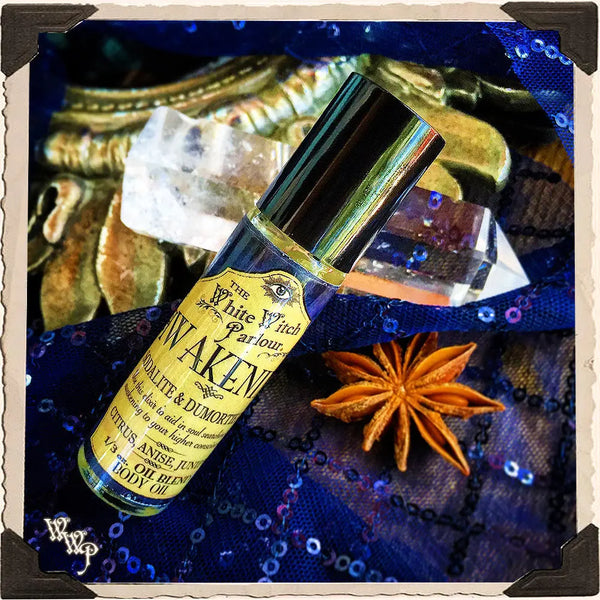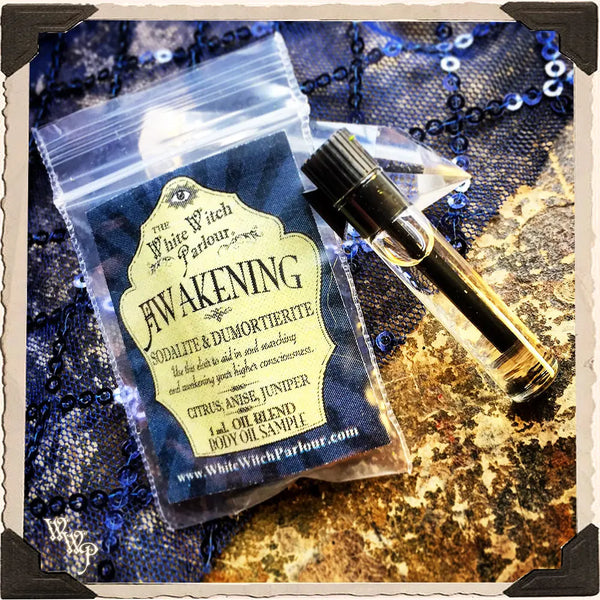 AWAKENING Elixir 1/3oz. BODY OIL Rollon. For Spiritual Growth & Finding Life Purpose.
At some point in our lives, we can feel a great disconnect, which inspires a new leaf to turn, in which we seek within ourselves & embark on a journey for some serious soul searching. We finally feel 'awake' in our lives & no longer carrying on like a zombie. We are aware & reaching constantly for enlightenment. For some, this may come immediately following troubled times & for others it seems to be some kind of internal switch that happens overnight. Never the less, this is a unique energy that can happen to anyone who is ready to embrace change & gain new eyes, in which to see the truth in the world. These energies are what inspired this Awakening blend. 
  
Crisp & refreshing, this high energy blend can aid in awakening the spiritual mind, bringing a sense of renewal & Light. Anise & Juniper work to cleanse negative energy, raise one's vibration & offer protection to the aura & mind. Lemon develops an energy of positivity & cheer, to help one hold the energetic & creative energy.
Sodalite & Dumortierite crystals enhance a drive for enlightenment, welcoming wisdom & teaching from all sources. Together they banish any toxicity in one's life & bring's a calmness to the mind, developing clarity & rational thinking in stressing times. They help to push aside emotional thinking & help recharge true expression of the self. Don't be surprised if this magickal blend inspires you to live with less, decluttering the home & decluttering the mind.

My prayer for use:
" I awaken my mind, body & soul, to understand my higher goal. With help & knowledge from my guides, my spiritual wisdom grows in strides. "
Each Body oil comes in a glass 1/3oz. bottle with easy roll-on applicator containing chip stones of Sodalite & Dumortierite gemstones.
A beautiful, hand-crafted Potion blend of both all natural essential oils & high grade fragrance oils, blessed with the energies of the associated crystals in an all natural Sweet Almond Oil Carrier. Free of Harsh Chemicals & Animal Testing. Created for use on Skin, Aroma Lamps, Bath Oil or an Anointing Ritual Oil. Not meant for consumption. Keep away from small children & pets.
Awaken your soul to your higher purpose,
~ Jenna 

Sample sizes & more oils available in my shop!
**All sales are final. **