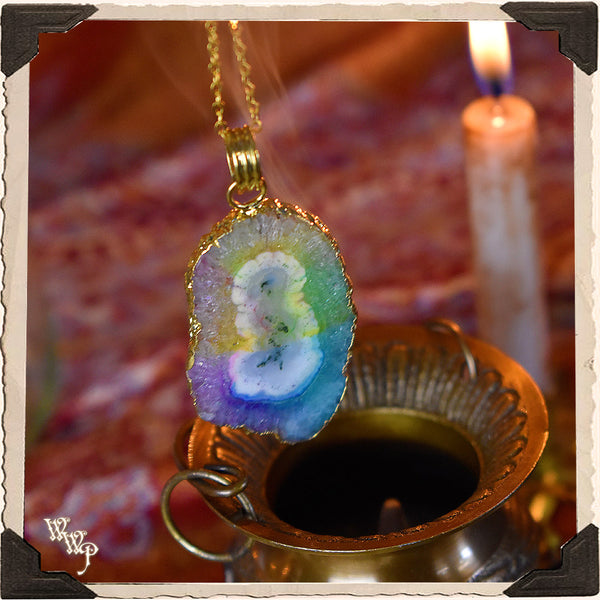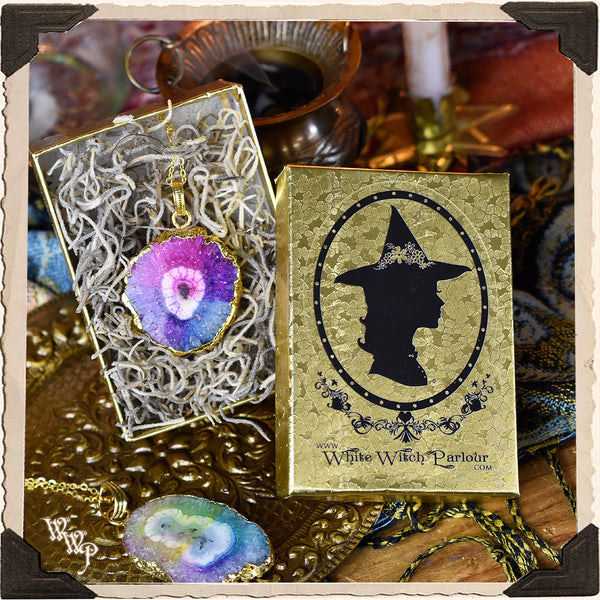 AURA CLEANSE SOLAR QUARTZ CHAKRA PENDANT NECKLACE. Electorplated Rainbow Energy Talisman.
A stunning necklace pendant to help you detox from any negative energies, offering a physical & spiritual cleanse to the aura. It can help to awaken the chakra centers & inspire new energies to promote healing & the raising of one's vibrations with rainbow energy to stimulate each of the physical chakras.  Connected to the frequencies of Spirit & Harmony, Solar Quartz emits an energy that reminds us that anything is possible. As a natural mood & energy enhancer, it strengthens the physical & emotional self during trying times. It aligns one's energy to be in better balance with the Crown Chakra, to enhance spiritual awareness & growth. Dyed with a tie-dye effect, a stunning rainbow coloring appears within the natural Quartz slice, creating an energy that is fun, unique & playful. Rainbow energy healing unites our spiritual growth with the knowledge of our Divine Life Purpose. Rainbow energy healing help us to remove barriers, blockages & illnesses that we many have unintentionally called into our lives. It wakes us up to a higher calling, amplifying energy within all chakras, the mind & spirit. 

Each Pendant has an gold electroplated edging and hangs on a sterling silver, gold plated 17" choker chain, with a clap end. Every Solar Quartz slice varies in size, shape & coloring. Each pendant necklace will be intuitively chosen at random. It comes in a beautiful gift box, on a bed or Spanish Moss, ready to gift to yourself or a loved one. Each pendant measures approx. 1.5"-2" in size.

* Please note that size, shape & coloring of each stone may vary, as this is a natural gift from Mother Earth. Each point chooses it's new home. sizes are roughly in a round shape, but some are oblong. 

 
Brightest Of Blessings, 
~ Jenna

*All Sales Final