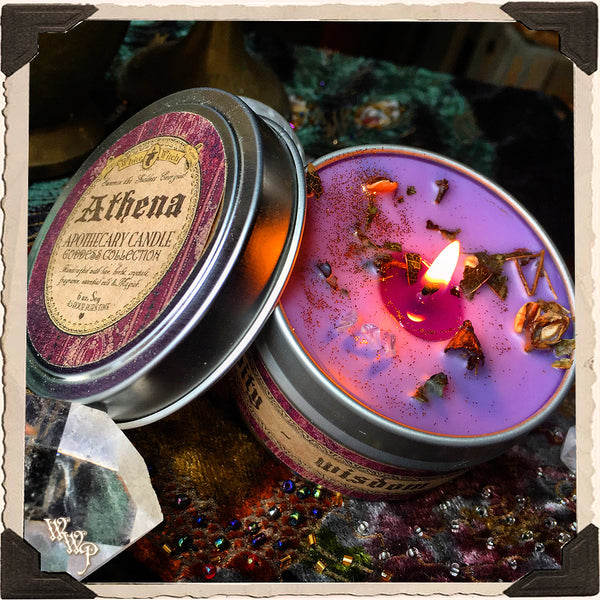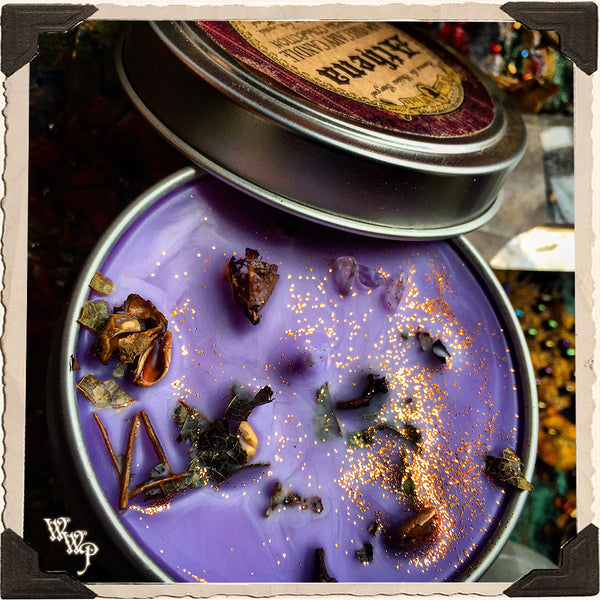 ATHENA GODDESS CANDLE. 6 oz. For Courage, Creativity, Wisdom, Justice & Inspiration.
A fruitful & exciting scent of Mulberry, mixed with the energy enhancing properties of Clear Quartz & beauty inspiring Witch Hazel, the blend was created to invite the enchanted energies of Goddess Athena into your magick practices & daily life. Known as the Goddess of War, Athena's presence also welcomes in Justice on all levels. She serves to women as a beacon of inspiration & creativity, ushering in adventurous thoughts & actions for creating new businesses, art or rewarding paths in the mundane. Her energy brings courage & wisdom to the weak hearted & even more power to those with strong will power. Her compassionate ways teach feminine energy to find balance in strength & love.  
Clear Quartz is the master generator, working with all vibrations it helps to heal, enhance & enlighten. Clear quartz is a stone of power & harmony, helping to align the chakras, energy levels, thoughts & emotions. Clear quartz can act as a stand in for just about any other crystal or help to tie in the vibrations of a mix of crystals. A valuable stone on it's own for everything that it offers, Clear Quartz will help to disperse toxins and negativity in the environment and redirect it to the highest good. 
Mulberry is closely tied to the energies Women & their powers of divination, knowledge, creativity, wisdom & will power. Also resonating with great protection & strength, the mulberry bush has been included in the famous nursery rhyme, which was originally created over 400 years ago by female prisoner's who would go round the Mulberry bush for exercise. So many symbolic connections to be made from this mental image. ;) Witch Hazel has long been used in magick for mending a broken heart, protection, divination, love, inspiration, chastity, healing, cleansing & calming emotions.
A magickal handcrafted 6oz. candle tin can be used for simple spells, rituals or just setting a proper energy to your environment. This tin candle is made up of soy wax, cotton wick, fragrance / essential oil blend & is charged & sprinkled with the associated crystal chip gemstones & herbs.  This beautiful candle offers a high scent throw, many smiles & can be taken on the go. It holds an average burn time of 45+ hours & comes ready to gift to a friend or yourself. 

Blessings of inspiring creativity & wisdom,
~ Jenna

*All sales are final.
Store in cool dry place, keep from heat or direct sunlight. Never leave a lit candle unattended or near flammable items such as curtains. Always think of safety when using open flame *

Vegan Friendly! Free of Harsh Chemicals & Animal Testing.

Check out more candles & accessories in my shop!