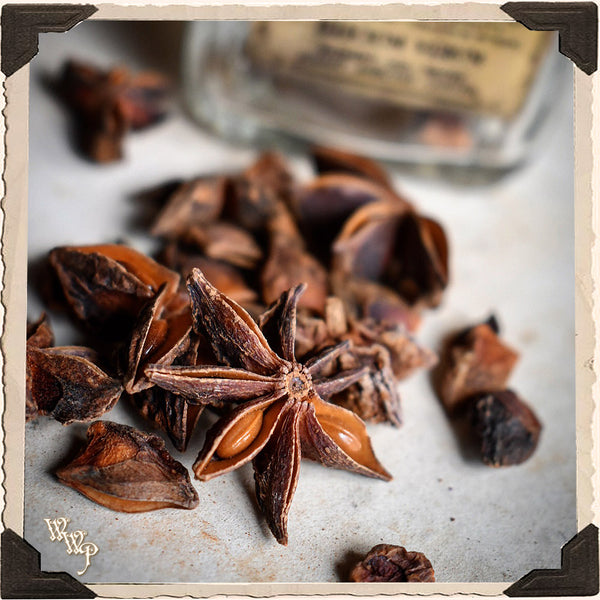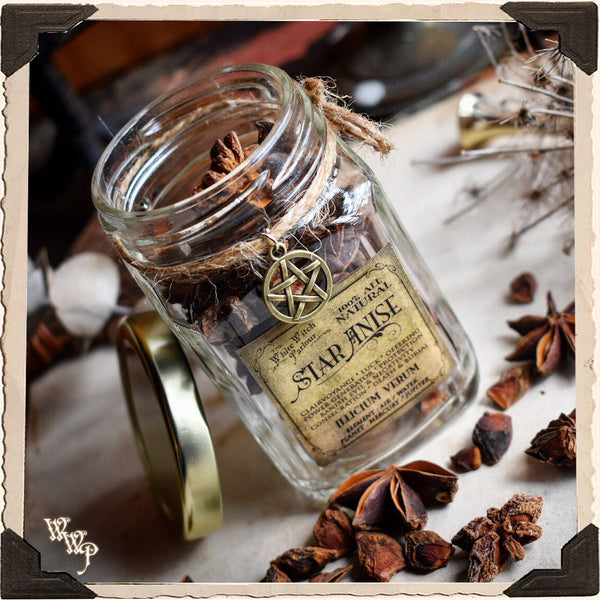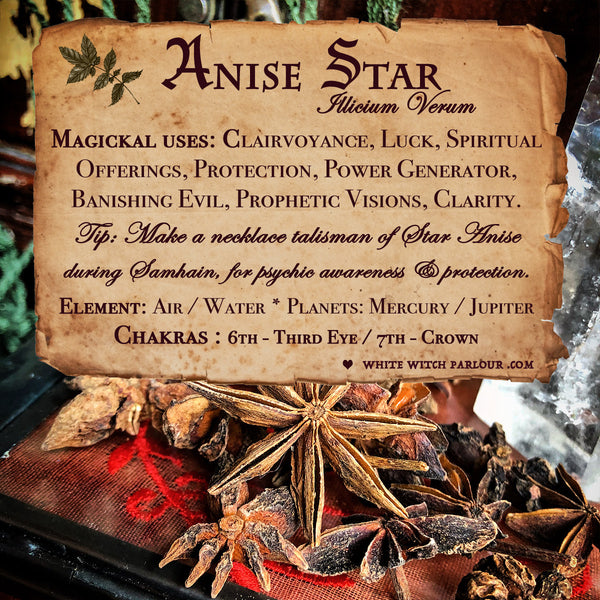 ANISE STAR APOTHECARY. Dried Herbs. For Clarity, Awakening & Clairvoyance.
Tied to the familiar taste of black licorice, Anise is known to suddenly snap you out of the mundane mindset & shift your attention to something new. It 'awakens' your mind to bring clarity to a situation, as it helps you "see" past the current view & bring a better understanding from a new angle. Conjuring spirits or trying to contact other dimensions is enhanced with the powers of Anise, as its crisp aroma takes us to new vibrational levels, helping us to better tap into our subconscious mind & see things through the mind's eye. It elevates our spirit & protects the aura, so that we may find comfort in journeying into the unknown. In the shape of a star, it creates the image of a pentacle, bringing awareness to the associations of the mystery of the occult & the potential we hold when we are 'one' with all things around us.  Anise can intensify our dreams & strengthen our connection to spirit.  
Botanical Name: Illicium Verum
Element Correspondences: Air / Water
Planetary Correspondences: Mercury / Jupiter 
Chakras: Third Eye (6th) / Crown (7th) 
Zodiac Correspondences: 
Magickal Uses: Clairvoyance, Luck, Spiritual Offering, Protection, Power Generator, Banishing Evil, Consecration, Death, Ritual, Burial, Divination, Psychic Development, Happiness, Clarity, prophetic visions, lucid dreaming, witchcraft. 
Magickal Tip: Add Anise to a hot drink to enhance prophetic visions & spirit communication. During Samhain, decorate with Stars of Anise as an offering to the spirit realm. Make a necklace talisman of Star Anise when the veil is thin for protection & psychic awareness. 
Holistic Uses: A salt bath of Bay Leaves & Anise, help to relax the body, detoxing the mind of stress. Add to food to help with digestion issues. 
* Please Note: Anise Stars may not be whole & are often broken up.*

Each glass apothecary herbal jar contains approx. 1.5 oz. of All Natural Anise Star, topped with a gold screw on lid, informative label & rustic pentacle accents. The pentacle represents the elements ( Earth, Air, Fire, Water & Spirit ) encompassed in a ring of unity, serving as a symbol of protection & connection. There is enough herbs in one jar to last for many uses. Store in cool dry place when not in use. Each square Herbal Jar measures approx. 4" high x 2.5" wide. There are several uses for dried botanical herbs, such as adding to or making magickal sachets or Witch bottles, creating tinctures or perfume oils, creating herbal capsules, tea mixtures, powder incense, bath and body scrubs, soaps & lotions, & so much more!
Magickal Blessings,  
~ Jenna
* All Sales Final.  Herbs & information provided is not meant to treat or diagnose any disease or ailment. Please seek medical attention if needed & always do research before consuming herbs or resins. Many contain natural high medicinal properties, which may be toxic to pets, small children & Women who are nursing or pregnant.
More Apothecary Jars, Burners & Accessories available in my shop!