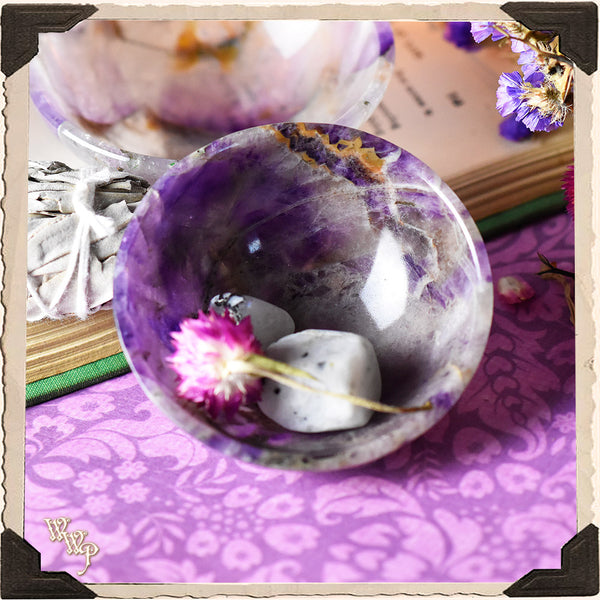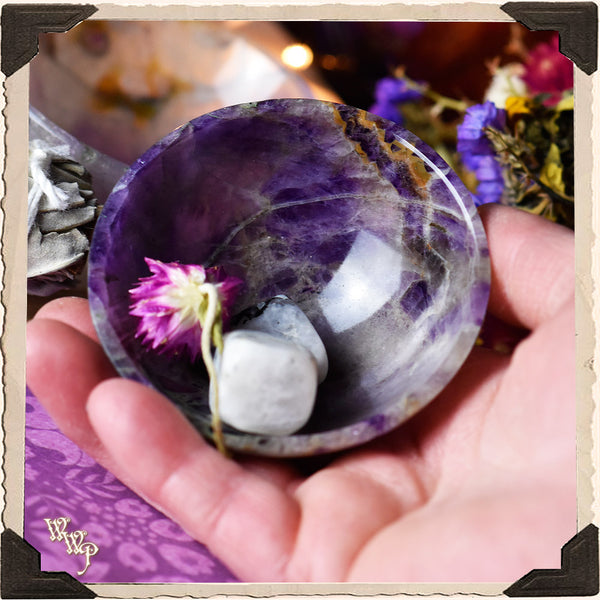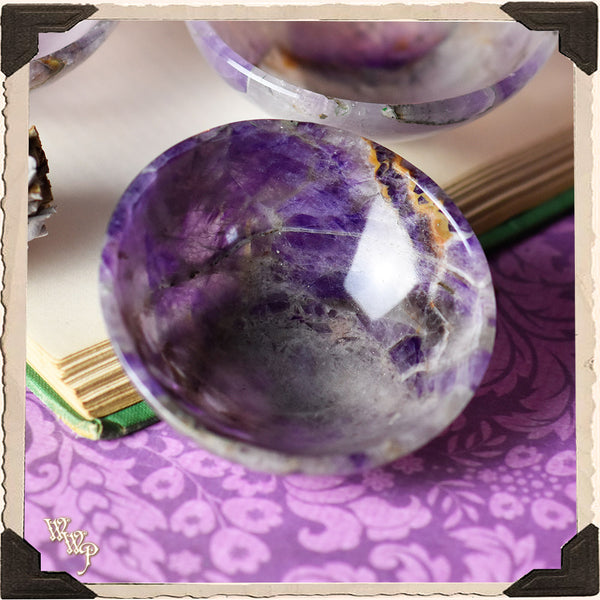 AMETHYST CRYSTAL BOWL 3". For Divination & Spiritual Growth.
Amethyst is a meditative and calming stone which works in the emotional, spiritual, and physical planes to provide calm, balance, patience, and peace. In the psychic and spiritual realms, amethyst is an excellent all-purpose stone that can increase spirituality and enhance intuition and psychic powers of all kinds. It does this by making a clear connection between the earth plane and other planes and worlds. Amethyst is also excellent for meditation and lucid dreaming. It is used to open one's channels to telepathy, past life regression, clairaudience, clairvoyance, and communication with angels. Amethyst also protects against psychic attacks, especially during spiritual work.  
 
ZODIAC: Virgo, Sagittarius, Capricorn, Aquarius, Pisces  
CHAKRA: Third Eye & Crown 
HOLISTIC: Helps to reduce physical pain in the body & fight diseases. It eases psychological stress & headaches. 
Each Amethyst 3" crystal carved bowl, can serve many uses, including a tea light candle holder, jewelry catch all, crystal charging plate, etc. Each piece chooses its new home, as you will receive 1 piece per order & it will arrive in a beautiful organza bag, on a bed of Spanish moss with Amethyst Information card. Before use of your new crystal bowl, it is always a good idea to consecrate each stone for it's intended purpose. You can do so, by smudging (with sage) each stone to clear any energies it has absorbed and putting your intention forth on each stone, resetting & programming it for how it will help you. 
** Please note, these are chosen at random & slightly vary in coloring. Sizes are approx 3" wide & colors vary from a dark to medium tone. ** 

Blessings of Love & Light,   
~ Jenna 

All Sales Final * 
* Size & shape of stones will vary as these are a natural product of mother earth.