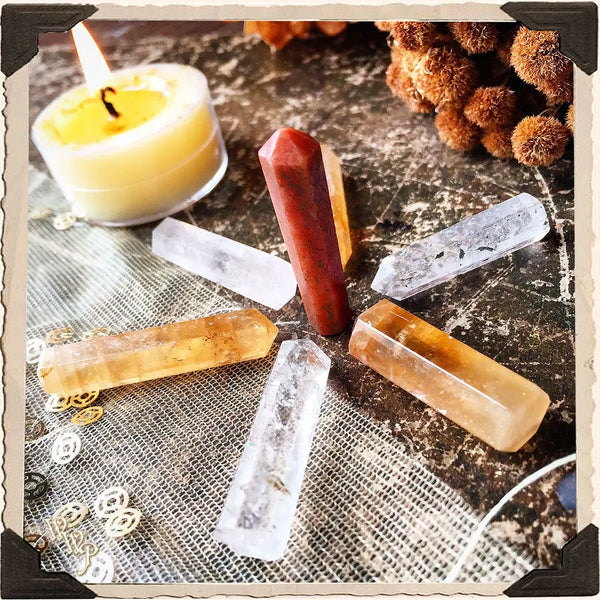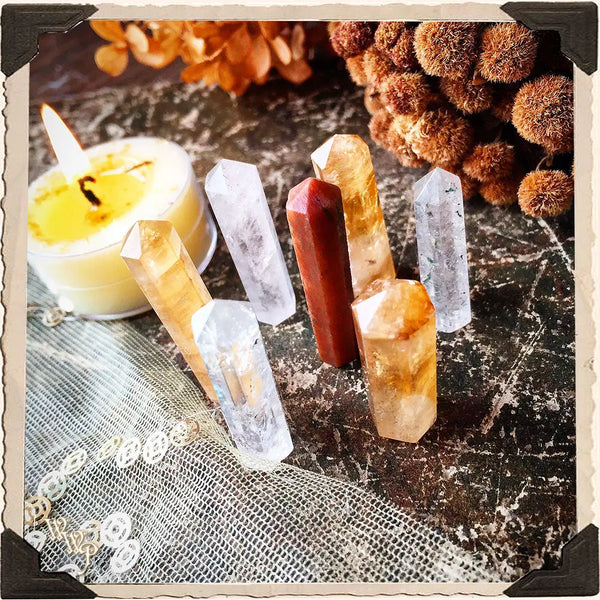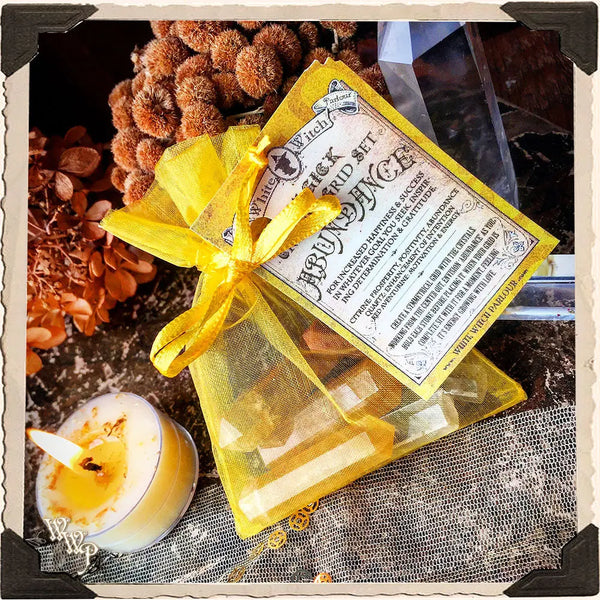 ABUNDANCE Crystal Grid Set. For Attracting Positivity, Success & Prosperity.
This uplifting magickal crystal grid set gives off happy & energizing vibrations, to help raise your thoughts and awareness to a 'can do' attitude, helping to release the fears that are holding you back from all that you wish to achieve. Bringing a quick and steady flow of abundance into your life, you can work with this grid of pure positivity to focus emphasis on the things that you wish to rise to the surface in full abundance, such as friendships, promotions, good health, travels & more! There is no limit to the abundance that can flourish in your life and this simple, yet powerful tool can help you get there.   

Citrine is an encouraging stone of wealth, success & true prosperity. It can help to bring joy & energy to the user, thus attracting abundance & peace into one's life. It will increase motivation & happiness as it filters out sorrow & anger, bringing balance to all physical & emotional levels. Powerful as a manifestation & healing stone, Citrine can help ease fear & open you up to acceptance in all things, from gratitude & love to material objects. It will help you to allow good things to come your way, including an increase of financial opportunities & adventure. A very beneficial stone, Citrine can also activate higher levels of consciousness helping your manifestation power.

Red Aventurine is a stone that enhances creativity, blocks negativity and allows the user to see all possibilities. It opens up the imagination and brings clarity. With an energy of positivity and inner strength the red coloring incorporates grounding, stability & passion. It encourages us to manifest through our actions and leads us to our higher path in the process, while keeping us level headed and balanced. It teaches us to laugh at our mistakes and offers the notion of self-love and a 'can do' attitude towards life's challenges & turbulent paths. Red Aventurine, being connected to the Root Chakra, stimulates excitement, determination & focus to all you seek in this life.

Clear Quartz is the master generator, working with all vibrations it helps to heal, enhance & enlighten. Clear quartz is a stone of power & harmony, helping to align the chakras, energy levels, thoughts & emotions. Clear quartz can act as a stand in for just about any other crystal or help to tie in the vibrations of a mix of crystals. A valuable stone on it's own for everything that it offers, Clear Quartz will help to disperse toxins and negativity in the environment and redirect it to the highest good. 


Each stone measures approx. 1.5" inches tall, and each special set chooses its new home. The set includes 7 single point terminated stones, 6 for gridding & one master stone in a beautiful keepsake organza bag & a handy information card. Since stones can vary so much in size and shape, each set has been handpicked so that there is some similarities amongst the stones. Each stone has been kissed with loving energy & blessed by my angels. Before use of your new crystal grid set, it is always a good idea to consecrate each stone or set for it's intended purpose. You can do so, by smudging (with sage) each stone, by passing it through the smoke of the sage then putting your intention onto each stone, resetting & programming it for how it will help you. In a calm & meditative state, simply hold the stone direct your love & desires into it, as you become in tune with each one. 

* Size & shape of stones will vary as these are a natural product of mother earth. You will receive a set similar to the one in the photo*

Brightest Blessings of Love & Light,
~ Jenna
* all sales final