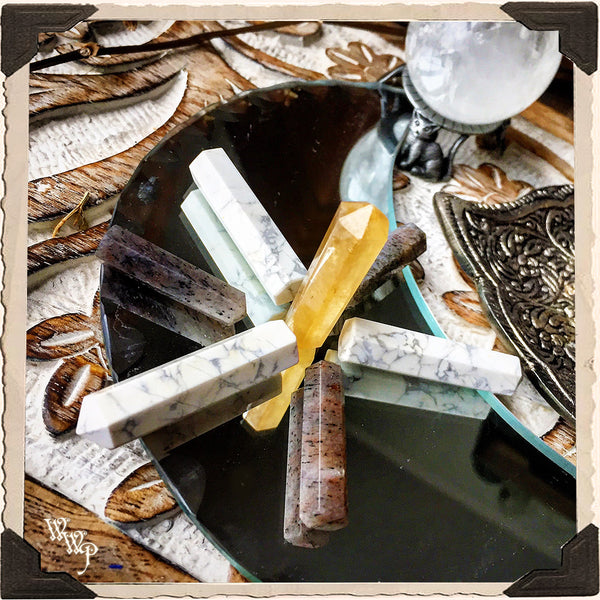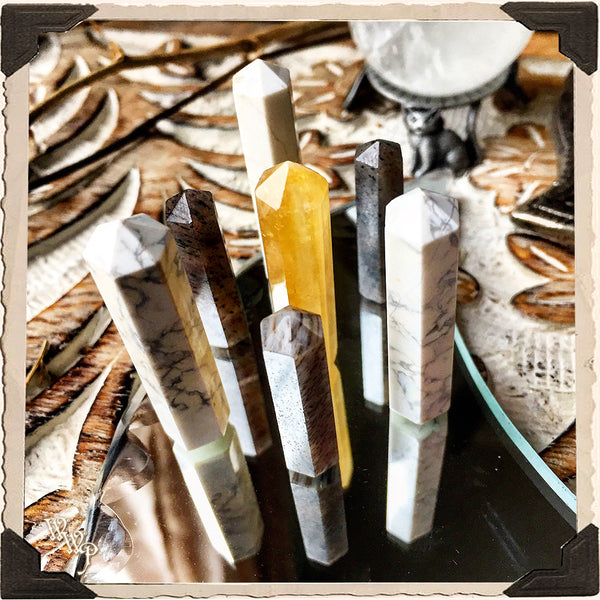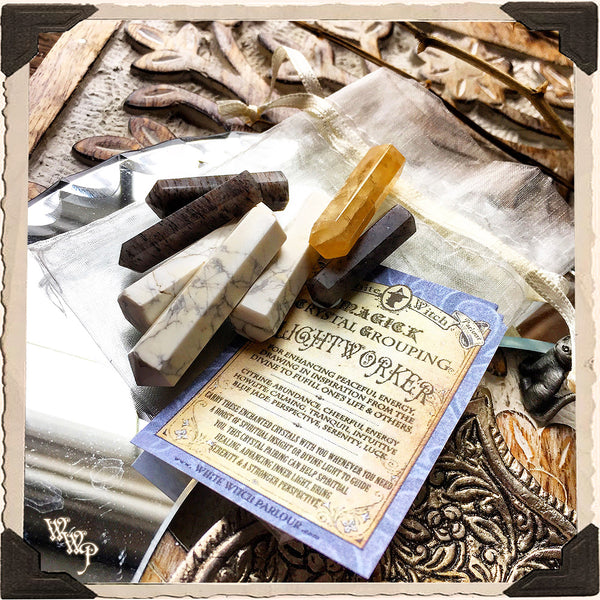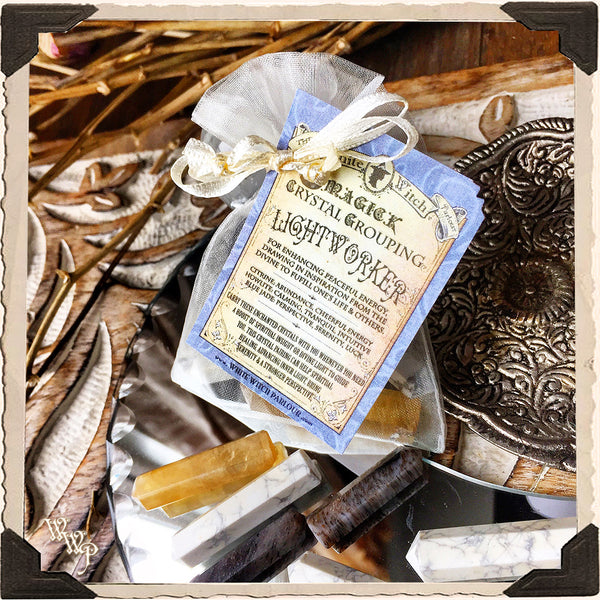 LIGHTWORKER Crystal Grid Set. For Light Energy, Peace & Fulfillment.
This energy grid was created to enlighten one to find their spiritual path & inner light, enhancing it enough to inspire sharing the wealth of personal wisdom, encouragement & Light that one carries onto others, hence the name 'Lightworker.' It welcomes a peaceful energy, bringing prosperity, luck & spiritual balance to the user. It generates a boost of spiritual insights or divine light to guide you, as it aids in spiritual healing, advancing inner light, serenity & a stronger, positive perspective on life.
Howlite is a stone of tranquility & balance. It teaches to work with feminine energies, softening one's energy & enhancing inspiration & creativity. It calms the thought process & speech, allowing one to think clearly & showing the importance on 'taking your time.' It vibrates to an energy of quality over quantity, elaborating on the importance of 'time well spent.' It eases the soul, welcoming good rest & gentle vibes. 
Blue Jade is a stone of perspective, serenity & luck. It brings a new view to any situation good or bad, so that one can make a better judgement & find spiritual insights. It brings wisdom to one's soul & life purpose. It heals the throat chakra, aiding in speech & sound, expressing one's opinion & artistic expressions. It brings a peace & calm during turbulent times. It helps to guard against illness, raising one's vibrations gently & soothing one's energy to uplift the soul & enhance one's own inner light.
Citrine is an encouraging stone of wealth, success & true prosperity. It can help to bring joy & energy to the user, thus attracting abundance & peace into one's life. It will increase motivation & happiness as it filters out sorrow & anger, bringing balance to all physical & emotional levels. Powerful as a manifestation & healing stone, Citrine can help ease fear & open you up to acceptance in all things, from gratitude & love to material objects. It will help you to allow good things to come your way, including an increase of financial opportunities & adventure. A very beneficial stone, Citrine can also activate higher levels of consciousness helping your manifestation power. 


Each stone measures approx. 1.5" inches tall, and each special set chooses its new home. The set includes 7 single point terminated stones, 6 for gridding & one master stone in a beautiful keepsake organza bag & a handy information card. Since stones can vary so much in size and shape, each set has been handpicked so that there is some similarities amongst the stones. Each stone has been kissed with loving energy & blessed by my angels. Before use of your new crystal grid set, it is always a good idea to consecrate each stone or set for it's intended purpose. You can do so, by smudging (with sage) each stone, by passing it through the smoke of the sage then putting your intention onto each stone, resetting & programming it for how it will help you. In a calm & meditative state, simply hold the stone direct your love & desires into it, as you become in tune with each one.

* Size & shape of stones will vary as these are a natural product of mother earth. You will receive a set similar to the one in the photo*

Brightest Blessings of Love & Light,
~ Jenna
* All sales final
More crystals & sets available in my shop!
---