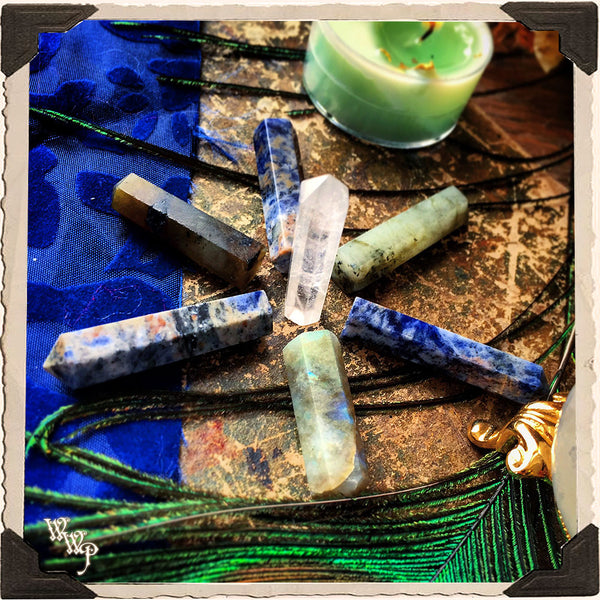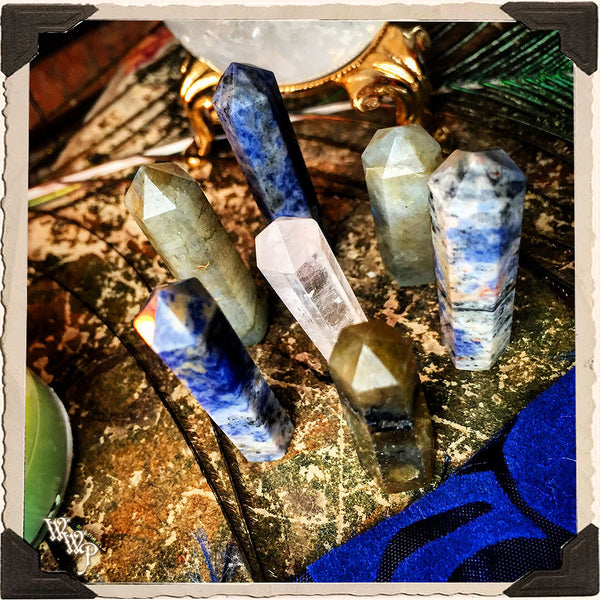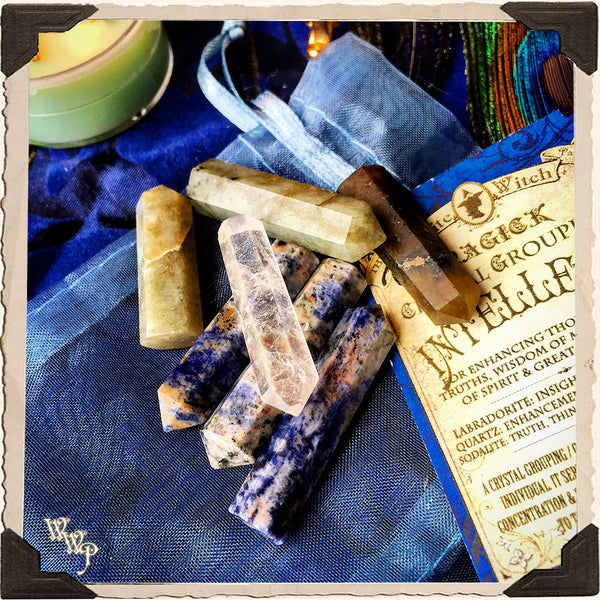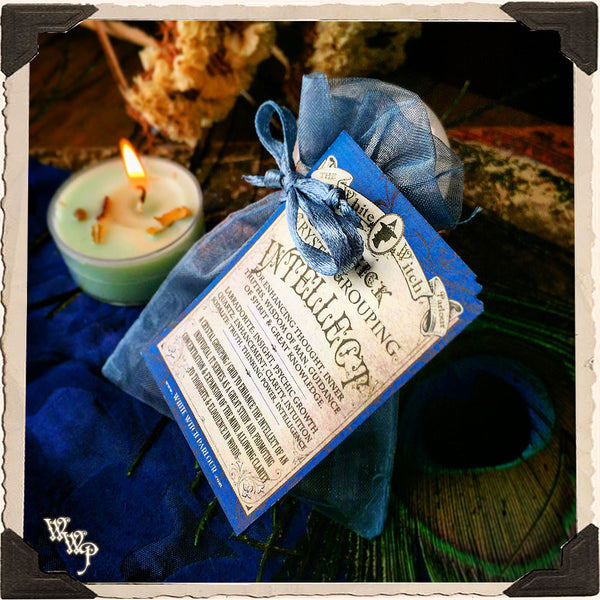 INTELLECT Crystal Grid Set. For Inner Truths, Knowledge & Thought.
An enlightening crystal set or grid for enhancing thought, inner truths, seeking the wisdom of man, finding guidance of spirit & understanding hidden knowledge. This powerful pairing advances the intellect of an individual, serving as a great study aid, as it promotes concentration & expansion of the mind. It enriches clarity of thought & eloquence in words. Created with the word expansion in mind, this set not only helps you to better understand the laws of the physical, but the laws of the spiritual world as well. 

 Labradorite allows one's innate magical powers to surface. It enhances the mental and intuitive abilities of clairvoyance, telepathy, prophecy and coincidence control, and assists in communication with higher guides and spirits in accessing Akashic records, psychic readings and past-life recall. It provides an ease in moving between the worlds, and permits a safe and grounded return to the present. Labradorite tempers the negative side of our personality, the traits and actions that rob our energy and may produce depression or shame. It assists in reducing anti-social, reckless or impulsive behavior in children, teenagers and adults who are easily led into trouble by others, and may aid in detoxifying the effects of tobacco, alcohol, and to a lesser degree, hard drugs. Labradorite can be very helpful during times of change in one's life, whether emotional or physical.

Sodalite activates the throat chakra, enhancing self expression & communication skills, allowing the user to not only express themselves through artistic means, but through business outlets as well.  It opens a doorway for one to dig deeper within themselves, finding their inner truths & hidden intelligence.  It helps one to better understand philosophical thought & wisdom, merging it into one's own ways & actions, giving birth to new concepts & ideas. Sodalite is a powerful stone to have for study & thought, as it can advance the mind to new levels, redefining personal "Smarts."

Clear Quartz is the master generator, working with all vibrations it helps to heal, enhance & enlighten. Clear quartz is a stone of power & harmony, helping to align the chakras, energy levels, thoughts & emotions. Clear quartz can act as a stand in for just about any other crystal or help to tie in the vibrations of a mix of crystals. A valuable stone on it's own for everything that it offers, Clear Quartz will help to disperse toxins and negativity in the environment and redirect it to the highest good.


Each stone measures approx. 1.5" inches tall, and each special set chooses its new home. The set includes 7 single point terminated stones, 6 for gridding & one master stone in a beautiful keepsake organza bag & a handy information card. Since stones can vary so much in size and shape, each set has been handpicked so that there is some similarities amongst the stones. Each stone has been kissed with loving energy & blessed by my angels. Before use of your new crystal grid set, it is always a good idea to consecrate each stone or set for it's intended purpose. You can do so, by smudging (with sage) each stone, by passing it through the smoke of the sage then putting your intention onto each stone, resetting & programming it for how it will help you. In a calm & meditative state, simply hold the stone direct your love & desires into it, as you become in tune with each one. 


* Size & shape of stones will vary as these are a natural product of mother earth. You will receive a set similar to the one in the photo*

Brightest Blessings of Love & Light,
~ Jenna
* All sales final
More crystals & sets available in my shop!
---