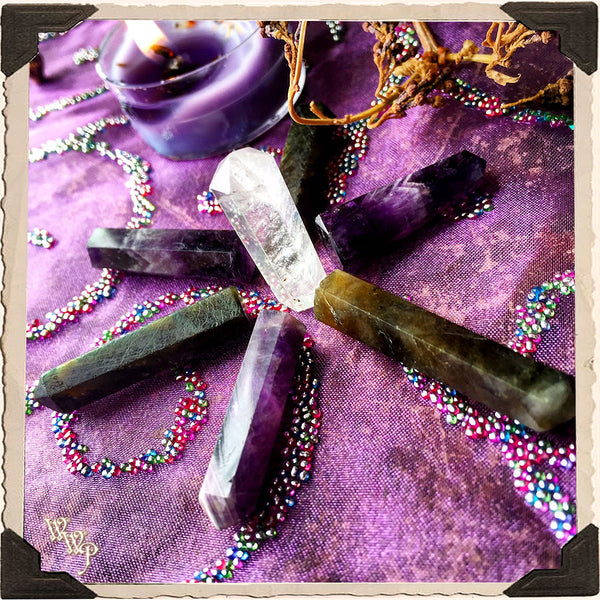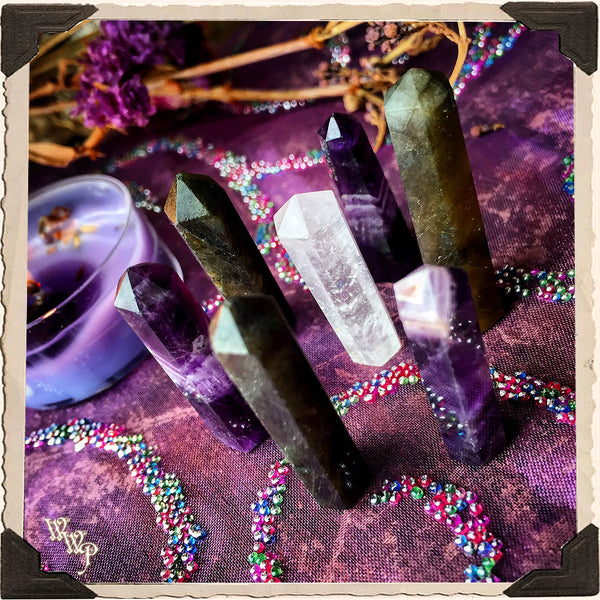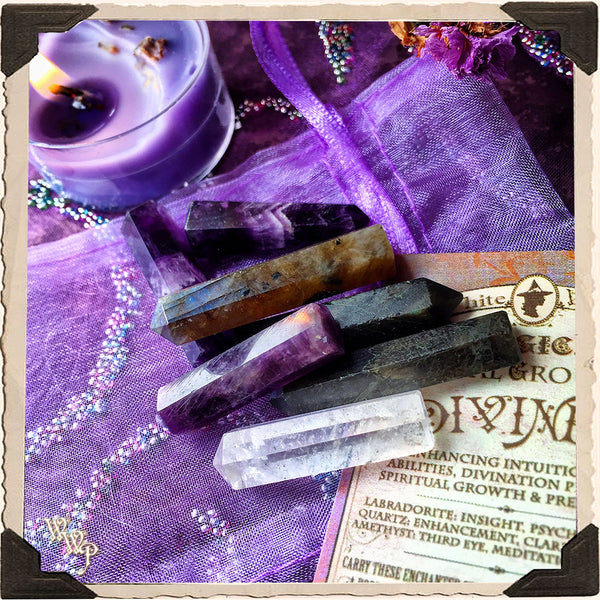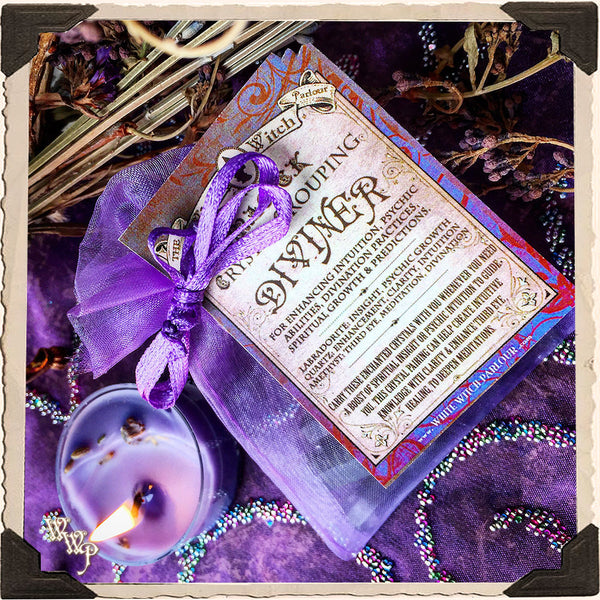 DIVINER Crystal Grid Set. For Third Eye Awakening, Intuition & Psychic Awareness.
A diviner is one who works with heightened intuitive & psychic powers to predict future events & help guide those on their sacred path. Much like a Prophet or Soothsayer, a Diviner uses Divination practices to 'foresee' the outcome of any given path or journey, similar to a Fortune Teller.

This magickal crystal set was created to help enhance your natural psychic abilities & intuition. A great set to work with during Divination practices as it allows for a clearer window into the spirit world, making spirit communication & divine guidance stronger. Together, Amethyst, Labradorite & Clear Quartz work to strengthen spiritual growth & psychic predictions for one's current path, as they all carry the energies of a Seer's abilities. So whenever you need a boost of 'Spiritual Energy,' or deeper insight, turn to this magickal grouping to help you get there.

Labradorite allows one's innate magical powers to surface. It enhances the mental and intuitive abilities of clairvoyance, telepathy, prophecy and coincidence control, and assists in communication with higher guides and spirits in accessing Akashic records, psychic readings and past-life recall. It provides an ease in moving between the worlds, and permits a safe and grounded return to the present. Labradorite tempers the negative side of our personality, the traits and actions that rob our energy and may produce depression or shame. It assists in reducing anti-social, reckless or impulsive behavior in children, teenagers and adults who are easily led into trouble by others, and may aid in detoxifying the effects of tobacco, alcohol, and to a lesser degree, hard drugs. Labradorite can be very helpful during times of change in one's life, whether emotional or physical.

Amethyst is an emotionally grounding stone. It works with the deepest levels of the subconscious to break through dense blockages. This precious stone is great for spiritual healing & meditative work. It is constantly working to clear low vibrational energy, meaning it needs to be cleansed quite often to keep the magickal workings strong. Offering an abundance of psychic protection, this blessed stone also heals the mind & spirit, thus rejuvenating your entire being. A great stone for meditating, Amethyst will stimulate the higher chakras, open the third eye & keep you grounded all at the same time.

Clear Quartz is the master generator, working with all vibrations it helps to heal, enhance & enlighten. Clear quartz is a stone of power & harmony, helping to align the chakras, energy levels, thoughts & emotions. Clear quartz can act as a stand in for just about any other crystal or help to tie in the vibrations of a mix of crystals. A valuable stone on it's own for everything that it offers, Clear Quartz will help to disperse toxins and negativity in the environment and redirect it to the highest good.


Each stone measures approx. 1.5" inches tall, and each special set chooses its new home. The set includes 7 single point terminated stones, 6 for gridding & one master stone in a beautiful keepsake organza bag & a handy information card. Since stones can vary so much in size and shape, each set has been handpicked so that there is some similarities amongst the stones. Each stone has been kissed with loving energy & blessed by my angels. Before use of your new crystal grid set, it is always a good idea to consecrate each stone or set for it's intended purpose. You can do so, by smudging (with sage) each stone, by passing it through the smoke of the sage then putting your intention onto each stone, resetting & programming it for how it will help you. In a calm & meditative state, simply hold the stone direct your love & desires into it, as you become in tune with each one. 

* Size & shape of stones will vary as these are a natural product of mother earth. You will receive a set similar to the one in the photo*

Brightest Blessings of Love & Light,
~ Jenna

*All Sales Final
---