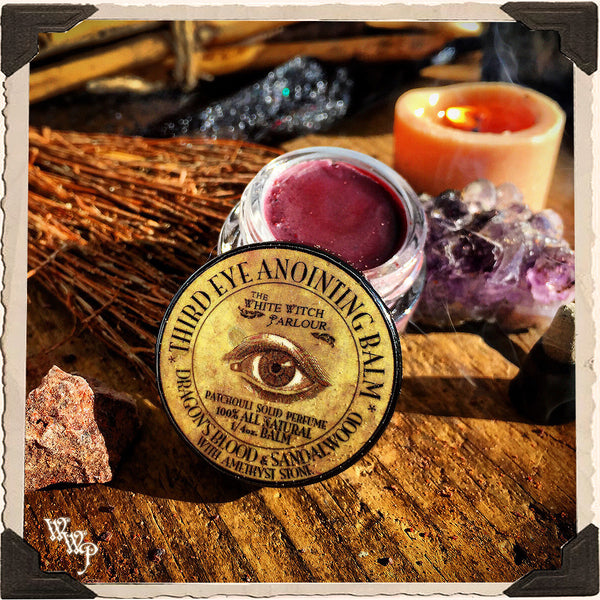 Third Eye Anointing Balm. 1/4 oz. All Natural Solid Perfume. For Spiritual Awakening & Strengthened Manifestations.
Ask, believe & you shall receive! This balm was created with love for ritual, meditation, divination work & to help awaken the third eye and back your thoughts with manifestation power. Wearing it through a day or during a meditation, you will find that your intuition speaks loud and clear. This balm brings forth your psychic energy. Sandalwood & Dragon's Blood together hold a slightly earthy scent & Patchouli lifts that scent to a sweet herbal energy. When worn over the third eye, it soothes & calms the mind allowing you to focus on your intent. A little goes a long way and this little jar can last you quite some time, even if used everyday! 
The potency of Dragon's Blood enhances ritual, long used to enhance manifestation power in spells, whether dealing with issues of banishment, love, healing or clairvoyance, Dragon's Blood is a powerful booster to anything you put out into the universe. Patchouli enhances passion, drive & desire, often becoming the fire to ignite what the spirit wants, encouraging one to take action, following their thoughts. Sandalwood is the purifier, raising one's spiritual vibrations & creating a space of belief & hope. Sandalwood pushes away doubt, fear or anger, and allows the heart to open to greater opportunities as a deeper connection to higher consciousness is formed. Amethyst ties these magickal properties together channeling clarity to to third eye and through the subconscious & psychic awareness. It is one of the best stones for meditation, it opens the mind to clarity & a spiritual connection to the divine or one's higher purpose in this lifetime.
Take the power of your thoughts to the next level with this enchanting balm. By anointing the third eye before meditation or ritual work, you will allow attention and heightened energy to flow freely through the subconscious & into the universe. If used daily, one can draw positive intentions towards a better day, thus raising daily energy & leading one closer to their dreams. Synchronicity, messages & symbolism may become more vivid & noticeable, making the spiritual journey a more memorable one.
A magickal & powerful handcrafted Third Eye Anointing Balm made of an elaborate blend of 100% ALL NATURAL waxes, butters, Essential Oils & Resins. The ingredients are blessed by the energy of Amethyst stone. Comes in a 1/4 oz. glass jar with black metal screw top lid & a lovely black organza bag with information card. It works as a Patchouli Solid Perfume & ready to gift to a loved one or yourself.
May your manifestations become reality,
~ Jenna
* INGREDIENTS Contain: Essential Oils (Patchouli), Dragon's Blood Resin, Red Sandalwood, soybean oil, sunflower oil, jojoba oil, cocoa butter, Shea butter, vitamin e, aloe Vera, beeswax, hemp oil, avocado oil. Not meant for consumption. 
*All sales are final. * 
Keep out of heat and direct sunlight.
---