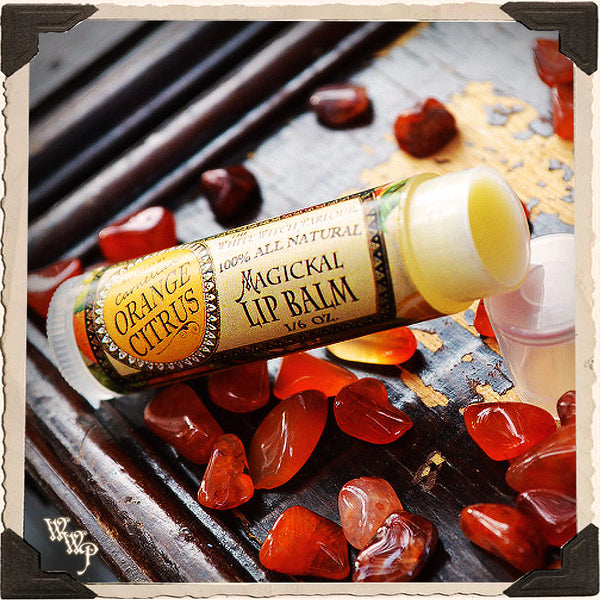 DISCONTINUED: ORANGE CITRUS Lip Balm All Natural. Blessed by Carnelian Crystal.
ONCE THESE ARE GONE WE WILL NOT CARRY THEM AGAIN!
This positivity stimulating lip balm is All Natural & handcrafted, made up of an elaborate blend of 100% ALL NATURAL waxes, butters & oils in a 1/6oz tube, with the essence of Carnelian crystal mixed into each batch, To keep your energy & attitude full of courage and motivation, use this joyous Orange Citrus lip balm to bring out your powerful words with an upbeat energy. Part of the key to the manifestation process, is to lighten up! The Carnelian stone ties in a bold energy, often helping with endurance and leadership qualities, inspiring timid speakers to become courageous. With the color of a setting sun, it brings the user stamina for physical exercise & helps an appetite for success. So if you are looking for that extra bump of courage to get your goals going, make this balm a part of your daily ritual.

In Love & Light,
~ Jenna

*All sales are final    

* INGREDIENTS Contain: Essential Oils ( Blood Orange & Lemon ), soybean oil, sunflower oil, jojoba oil, cocoa butter, Shea butter, vitamin e, aloe Vera, beeswax, hemp oil, avocado oil.*

Take a look at my other Lip Balms in the shop! 
---