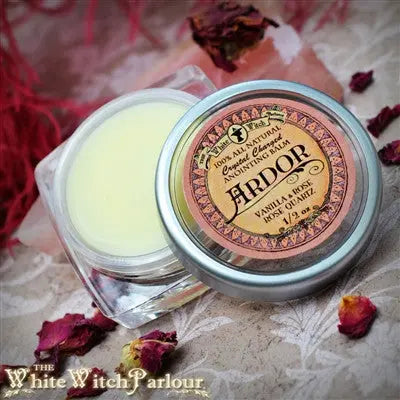 ARDOR 1/2oz. SOLID PERFUME. All Natural Anointing Balm. Vanilla & Rose. Blessed with Rose Quartz For Self Love
What better way to give your self an abundance of new love! Remember when you were a child and everything was so new to you? The innocent days when the smallest things would make you smile, laugh & wonder. Wearing this balm will surround you in an aura of pure love, letting you see the world from your heart once again! The energy & eagerness to discover new things will flood you spirit thanks to the harmonious energies of Vanilla & Rose, making your heart go pitter-patter to the rhythm of your own dance. This all natural balm is blessed by a small piece of Rose Quartz chip stone, left in each 1/2oz. container. Rose Quartz is the stone of unconditional love, with it's feminine energy it promotes generosity, peace, beauty, compassion, healing & so much more! This lovely stone helps to reawaken the sense of deep personal fulfillment & contentment, helping you to better enjoy all the magick that surrounds you.

In Love & Light,
~ Jenna

* INGREDIENTS Contain: Essential Oils (Rose & Vanilla), soybean oil, sunflower oil, jojoba oil, cocoa butter, Shea butter, vitamin e, aloe Vera, beeswax, hemp oil, avocado oil. - not recommended for use by children or women who are pregnant /nursing.

*All sales are final. * 
Not Meant for consumption.
Keep out of heat and direct sunlight.

Sample oil sizes available in my shop! 
---