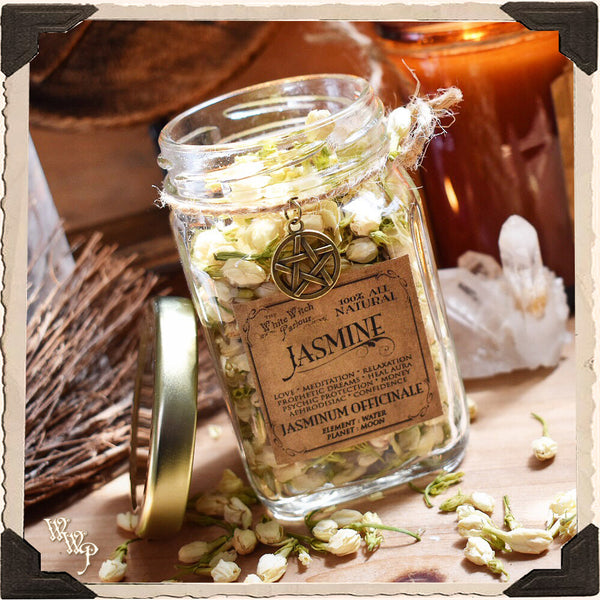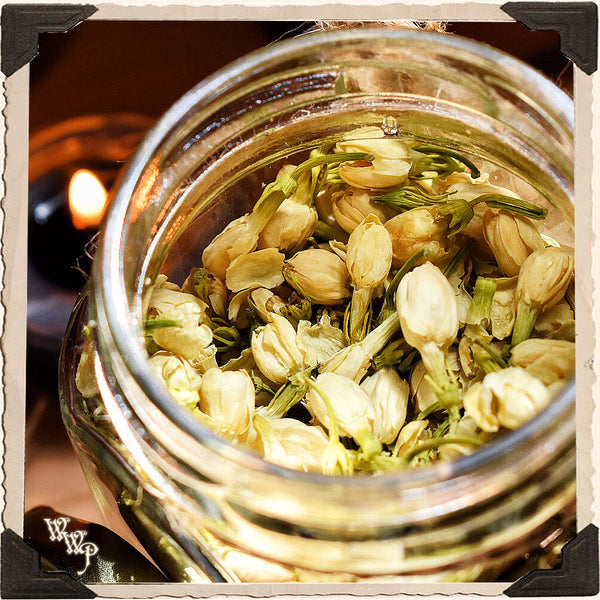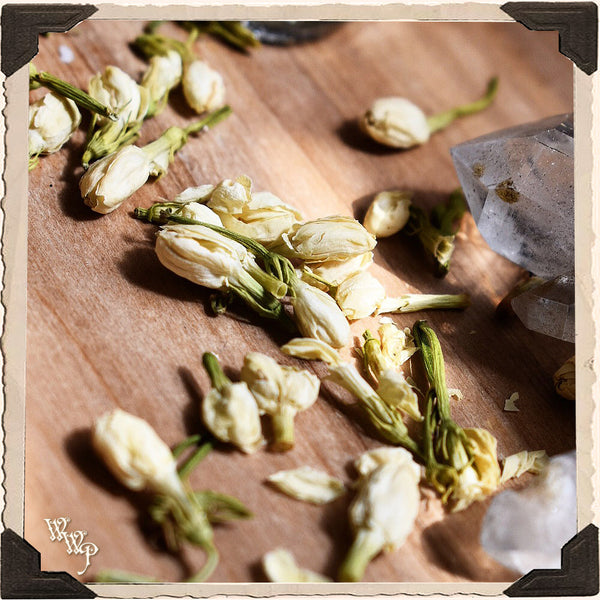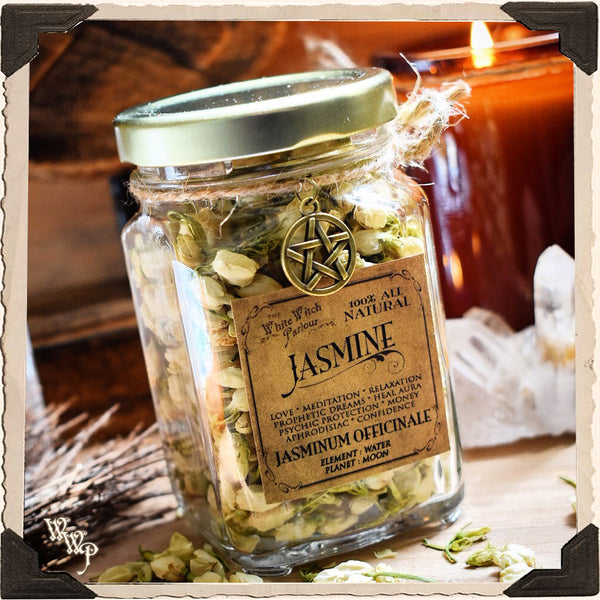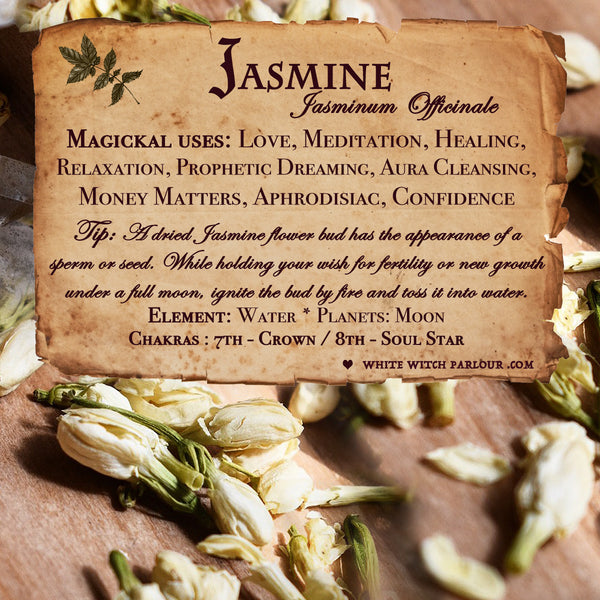 JASMINE FLOWER APOTHERCARY. Dried Herb For Love, Meditation & Enlightenment.
Jasmine flower awakens your spirit and opens your heart to great energies involving all matters of Love, as Jasmine helps to attract love into your life in all forms. Long used as an aphrodisiac through its alluring scent as an attar oil, the magick of Jasmine helps to build confidence and aid one to relaxation. Since these properties help to also strengthen the aura, you can begin to release any tension in the body and when combined with sleep can promote prophetic dreaming. It is said that the scent of Jasmine helps one to align with their Crown & Soul Star Chakras, bringing in a great spiritual flow aiding in the journey to enlightenment. 
Jasmine is a great choice for beginning any ritual work, as it gently works to cleanse the aura & raise the vibrations of the space & person. It brings joy & compassion to the mind & allows those who are graced with it's warm & inviting scent to release any fears that may be holding them back.
Botanical Name: Jasminum Officinale
Magickal uses: Love, Meditation, Relaxation, Prophetic Dreaming, Healing Auras, Psychic Protection, Money Matters, Aphrodisiac, Confidence. 
ELEMENT: Water
PLANETS: Moon
CHAKRAS : Crown (7th) & Soul Star (8th) 
Magickal Tip: A dried Jasmine flower bud has the appearance of a sperm or seed. While holding your wish for fertility or new growth somewhere in life, during a full moon hold the flower bud over a flame and quickly toss it into a bowl of water. 
Holistic & Medicinal: Often used in lotions & balms, Jasmine can help reduce the appearance of wrinkles, aiding in a youthful glow. It can also ease tension in the body & headaches. 
Each glass apothecary herbal jar contains approx. .50 oz. of All Natural Jasmine Flower, topped with a gold screw on lid, informative label & rustic pentacle accents. The pentacle represents the elements ( Earth, Air, Fire, Water & Spirit ) encompassed in a ring of unity, serving as a symbol of protection & connection. There is enough herbs in one jar to last for many uses. Store in cool dry place when not in use. Each square Herbal Jar measures approx. 4" high x 2.5" wide. A second option/ Biodegradable bulk refill bag is available which contains approx. 1.4oz all natural Jasmine Flower.
There are several uses for dried botanical herbs, such as adding to or making magickal sachets or Witch bottles, creating tinctures or perfume oils, creating herbal capsules, tea mixtures, powder incense, bath and body scrubs, soaps & lotions, & so much more!
Magickal Blessings,
~ Jenna 
* All Sales Final.  Herbs & information provided is not meant to treat or diagnose any disease or ailment. Please seek medical attention if needed & always do research before consuming herbs or resins. Many contain natural high medicinal properties, which may be toxic to pets, small children & Women who are nursing or pregnant.
More Apothecary Jars, Burners & Accessories available in my shop! 
---