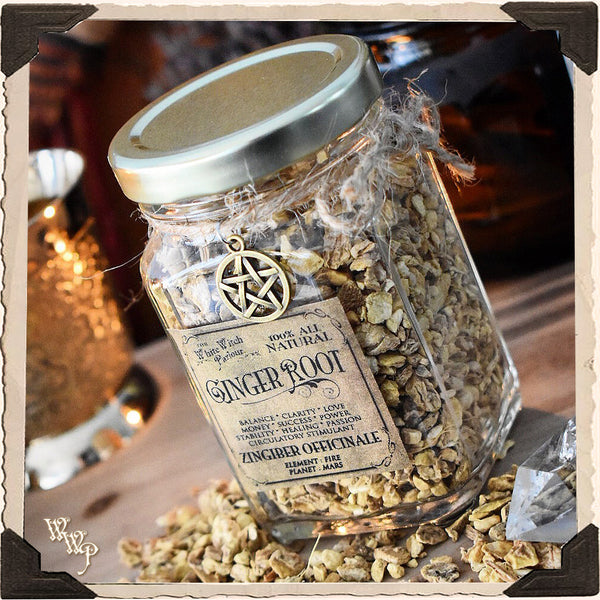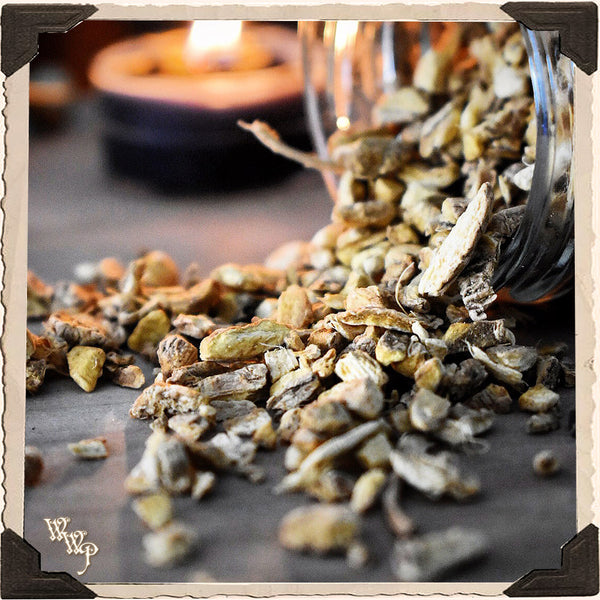 GINGER ROOT Dried Herb Zingiber Officinale. For Grounding, Balance & Success.
Known to help 'get things moving along,' Ginger Root can help to 'wake up' you magical energies & revitalize a spiritual flow. It offers grounding to help one 'reconnect,' to Earthly energies that may help one to heal & adapt to 'new' things.
Botanical Name: Zingiber Officinale
Magickal uses: Grounding, Balance, Success, Clarity, Love, Money, Power, Stability, Healing, Circulatory Stimulant.
Element Correspondences: Fire

Planetary Correspondences: Mars
Zodiac Correspondences: Scorpio & Taurus
Chakras : Root (1st) / Sacral Chakra (2nd)

Holistic Uses: Ginger is a traditional spice often used to make Gingerbread or Ginger Teas. It helps to calm nerves or alleviate an upset stomach. It has also been noted to have Cancer fighting properties.

Magickal Tip: A cup of Ginger Tea on a payday can increase riches & banish poverty, if done over the course of 3 months.
Each glass apothecary herbal jar contains approx. 3oz. of All Natural Ginger Root, topped with a gold screw on lid, informative label & rustic pentacle accents. The pentacle represents the elements ( Earth, Air, Fire, Water & Spirit ) encompassed in a ring of unity, serving as a symbol of protection & connection. There is enough herbs in one jar to last for many uses. Store in cool dry place when not in use. Each square Herbal Jar measures approx. 4" high x 2.5" wide. There are several uses for dried botanical herbs, such as adding to or making magickal sachets or Witch bottles, creating tinctures or perfume oils, creating herbal capsules, tea mixtures, powder incense, bath and body scrubs, soaps & lotions, & so much more!
Magickal Blessings,
~ Jenna
* All Sales Final.  Herbs & information provided is not meant to treat or diagnose any disease or ailment. Please seek medical attention if needed & always do research before consuming herbs or resins. Many contain natural high medicinal properties, which may be toxic to pets, small children & Women who are nursing or pregnant.
More Apothecary Jars, Burners & Accessories available in my shop!
---